Volleyball to host MIAA finals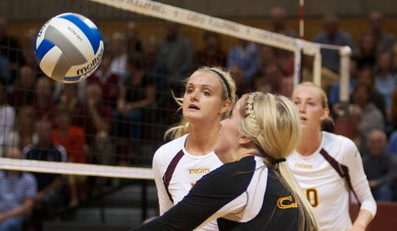 The Calvin Knights' volleyball team did not disappoint this week as it continued its MIAA undefeated streak.
Wednesday afternoon the Knights took on Trine and were able to take them down in three sets, defeating the Thunder 25-19, 25-16 and 25-18.
The Knights kept rolling Friday with a big win over St. Mary's Belles in three straight sets with scores of 25-10, 25-20 and 25-16. This win earned the team the MIAA conference championship for the season for the second straight year.
Finishing their regular season Saturday, the Knights took the win over the Britons of Albion College in, yet again, three sets with scores of 25-15, 25-11 and 25-15. The Knights were led offensively by senior Lizzie Kamp, who earned 16 kills on 26 attempts, hitting a .538 for the match. Senior Julia Hilbrands had nine kills and four blocks, two of which were solos. Junior Megan Rietema also had out 29 assists. Calvin totaled 48 digs and seven blocks as a team.
The final three wins in their regular season secured the first-place tournament seed for the Knights, which means the Knights will get to host the tournament this year.
Second-seeded Hope will play third-seeded Alma on Friday at 5:30 p.m. at the Van Noord Arena. Top-seeded Calvin will face fourth-seeded Trine at 7:30 p.m. The winners of these two games will compete on Saturday in VanNoord Arena at 4 p.m.