Cross country men and women clinch MIAA championship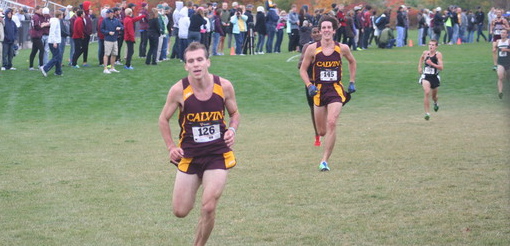 The weather was perfect at the Wiffletree Hill golf course for the MIAA Conference Championships. Senior Dan Kerr and junior Nicole Michmerhuizen took the men's and women's individual championships, leading both teams to titles.
The men's team won the MIAA for the 26th consecutive year, and in dominating fashion. 55 points separated the team from Hope, the runner-up. Kerr finished the 8-kilometer course in 24:37, followed by another breakout performance by senior David Vande Bunte in 24:49 and senior Job Christiansen right behind him. Senior Greg Whittle finished in 24:58. These seniors took the top four spots, finishing off their MIAA cross country careers in a commanding fashion.
Sophomores Josh Ferguson and Steven Haagsma were 10th and 11th overall, and senior Rhett Morici took 12th in 25:24. Junior Philip Spitzer, senior Kevin Peterson and sophomore Jacob Kuyvenhoven finished 15th through 17th, sophomore Stephen Tubergen and senior Alex VanHaitsma were 26th and 27th, and sophomore Nick Mckee, freshman Jeff Meitler and senior Gabe Gunnink were 30th through 32nd.
Seniors Eric Doornbos, Luke DeJong and Alex VanHaitsma each ran their last cross country races of their four-year careers. "It's been an incredible journey," said DeJong. "Today was a great way to finish off the racing portion of my season. I look forward to supporting the rest of my teammates who are running at regionals and nationals."
The women's team took the title back from Hope, the reigning champions. 11 points were the difference, but it was enough.
Up front, Michmerhuizen was challenged by Hope's top runner, Sherri McCormick. With two kilometers left in the 6-kilometer race, Michmerhuizen broke away, leaving no hope of catching her. She finished with a time of 21:49. Senior Alyssa Penning ran a strong race as well, finishing second overall with a time of 22:06.
"Nicole [Michmerhuizen] was as solid as a rock today," said Diemer.  "She just kept on grinding, and during the second loop the competition fell off."
Sophomores Kate Ardinger and Kimby Penning took sixth and seventh in 22:24 and 22:26, respectively, and freshman McKenzie Diemer rounded out the top five in 22:34. Junior Alyssa Oram, senior Kaylea Braese, sophomore Rebekah Folkema, senior Christine Hartley and sophomore Lizzy Vanette rounded out the top 10 for Calvin.
Senior Hannah Kregel finished her collegiate cross country career on a high note, running a personal best of 23:14 for 6K. "I loved these four years. Cross country has been one of the highlights of my time at Calvin," said Hannah. "I can't wait to see what our team can do at regionals and nationals."
Kerr received the MIAA most valuable runner award for winning the jamboree and the conference, and Michmerhuizen won the female award.
The Great Lakes Regional is the next race for the team, hosted by Anderson University on Nov. 10. The men are ranked second in the nation, and the women sixth. Both teams come in as favorites to win the region, racing against familiar foes like Hope and Alma.