Volleyball continues MIAA dominance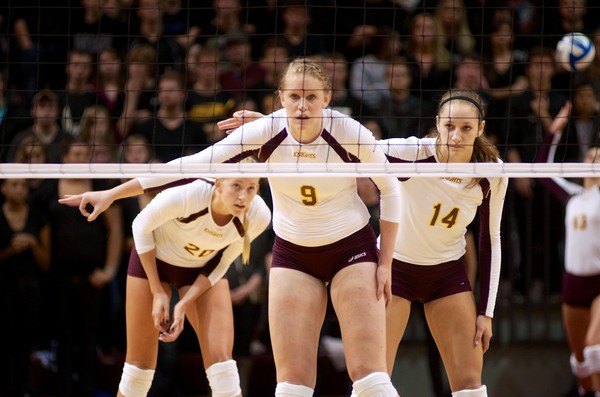 Hang on for a minute...we're trying to find some more stories you might like.
The volleyball team traveled to Olivet last Wednesday for a conference match. The Knights defeated the Comets in three sets 25-9, 25-18 and 25-18.
12 Knights contributed at least one kill a piece. Senior Lizzie Kamp led the charge with eight kills and four blocks. Junior setter Megan Rietema had six kills, 25 kills and three blocks. Senior Kelly Gordon-Hiskes had 10 digs. Sophomore Emily Crowe had five blocks while senior Julia Hilbrands had four.
The Knights tallied 10 team blocks while only getting blocked three times. They also had seven aces with Hiskes and senior Jen Pluymert each serving two.
Over the weekend, the Knights participated in the Midwest Invitational at Hope. Their first matchup was against Wisconsin Lutheran on Friday. Calvin won 25-14, 25-18 and 25-21. Kamp had 11 kills, freshman Maggie Kamp had eight. Rietema had 28 assists and Hilbrand and Hiskes also led the team with 18 digs.
In the second match on Friday, the Knights played No. 9 Elmhurst. Elmhurst defeated Calvin 25-21, 25-20 and 25-23. Lizzie and Maggie Kamp had 11 and 10 kills respectively.
Rietema had 31 assists and three blocks. Both Elmhurst and Calvin had 40 kills. Elmhurst served up 11 aces while Calvin had two aces and eight errors. This is the Knights' second loss of the year.
On Saturday, the Knights opened up against Dominican winning 3-1 with scores of 22-25, 25-22, 25-21, 25-18. Lizzie Kamp led the Knights with 15 kills, Maggie Kamp had 10 and Crowe had nine.
Rietema had 49 assists, two solo blocks and six kills. Hiskes led in digs with 20 and aces with two. Senior Rebecca Ratkov also had two aces. Hilbrands had six kills and four blocks including a solo block.
In the Knights' final match of the tournament, they faced off against No. 17 Wisconsin-Whitewater. Calvin prevailed 3-1 with the scores of 19-25, 25-22, 29-27 and 25-17. The Knights had 14 team blocks including three solo blocks from Ratkov, Lizzie Kamp and Crowe.
Ratkov had seven blocks to lead the team as well as four kills. Rietema had 37 assists and six blocks. Hilbrands had five kills and four blocks. Kamp led the Knights with 15 kills. Maggie Kamp had five kills. Pluymert served two aces.
The Knights play again on Saturday at Hope's DeVos Fieldhouse in their second rivalry match of the year. The first serve is set to be at noon.