Men's golf wins MIAA title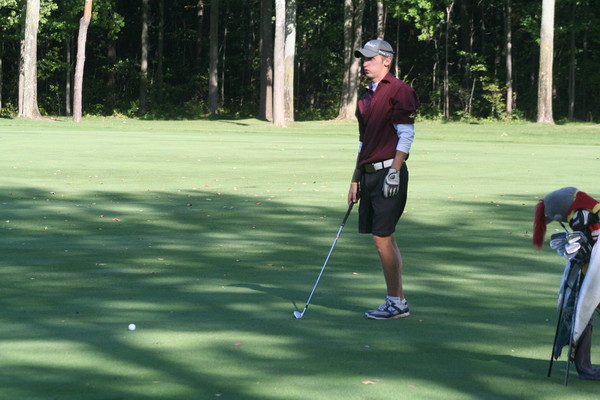 The men's golf team held on to its MIAA lead at the final MIAA Jamboree of the season. Oct. 9, the Knights took third at the Medalist Golf Club, the home course of Albion. Calvin shot a 324, five strokes behind Hope and 12 behind Adrian.
The Knights were led by junior Jake Hoogstrate with 79, who tied for seventh individually. Senior Ben Kuiper tied for 12th and sophomore James Van Noord tied for 16th, shooting 80 and 81 respectively. Senior Dave Sarkipato had 84 strokes and junior Ross Ryzenga had 93 on the par-72 course. Junior Mark Allen shot a 76 to tie for first individually, but did not participate in the team competition.
The team won the MIAA tournament in 2010 and Coach Brian Bolt was happy to claim it again.
"It feels great. This year's championship was different than the one in 2010, when we came from behind on the last day. This year we took the lead after the second of eight tournaments, and were able to maintain that position until the end," he said. "In golf it is very difficult to hold and build on a lead, and it required a team effort. Our two seniors, Ben Kuiper and Dave Sarkipato were excellent all fall.  Both finished with all-league honors."
Kuiper was named to the All-MIAA first team for the second year in a row, finishing fourth individually. Sarkipato was named All-MIAA second team and finished seventh.
"We also got great contributions from juniors Mark Allen and Jake Hoogstrate," continued Bolt. "Both guys have worked really hard the past three years, and it was very satisfying to see them have some success.  Sophomore James Van Noord was rock solid as well.  He played in all eight league matches and just missed all league honors by one stroke.  This is a great group of guys, on and off the course."
Calvin finished ten strokes ahead of Hope. With its second MIAA championship in three years, Calvin will be hosting two of the three MIAA spring tournament rounds. The winner of the tournament will automatically qualify for the NCAA tournament.
"The league championship was our first step, and we are now focused on the spring. After the offseason, we'll regroup for the conference automatic qualifier tournament in April. The competition will be really tough, but with a win we'll be on the NCAA national tournament in May," commented Bolt.