Women's soccer takes lead in MIAA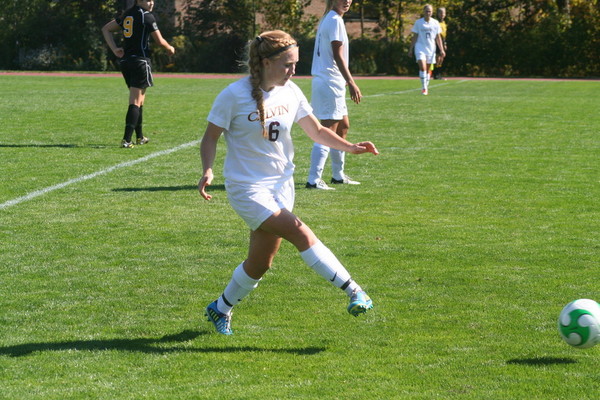 With its 3-0 victory over Trine on Tuesday, Oct. 9 and its 1-0 defeat of Alma on Saturday, Oct. 13, the Calvin Knights' women's soccer team took over the first place spot in the MIAA conference.
At its game on Tuesday, the Calvin women's soccer team improved its overall record to 8-3-0, 7-2-0 in MIAA conference. Calvin outshot Trine 26-3 in the match; Calvin goalkeeper Ashton Hearn was credited with the victory.
Freshman Taylor Ten Harmsel scored the first two goals for the Knights, while junior Danielle Carter scored the third with under five minutes remaining.
"We continue to get better as a team on the road," said Calvin head coach Mark Recker. "It is encouraging to see our level of play increase with each game."
On Saturday, at the matchup between the top two teams of the women's soccer MIAA conference, Alma and Calvin battled through the rain until Calvin came out on top.
Calvin outshot Alma 13-4 at the beginning, but could not get on the scoreboard for the first half of the game. The first 20 minutes of the second half were evenly matched, but in the 77th minute, Calvin earned a corner kick.
Sophomore Elle Burman took the kick and sent it to the near post, where Ten Harmsel headed the ball past Alma's goalkeeper, scoring her sixth goal of the season. Alma could not answer on the offensive end, giving Calvin the win. The Knights improved to 9-3-0, 7-2-0 MIAA on the season.
The women's soccer team takes on rival team Hope College at their home field at 4 p.m. on Wednesday, Oct. 17.