Cross country wins Oshkosh Invitational, takes down defending champs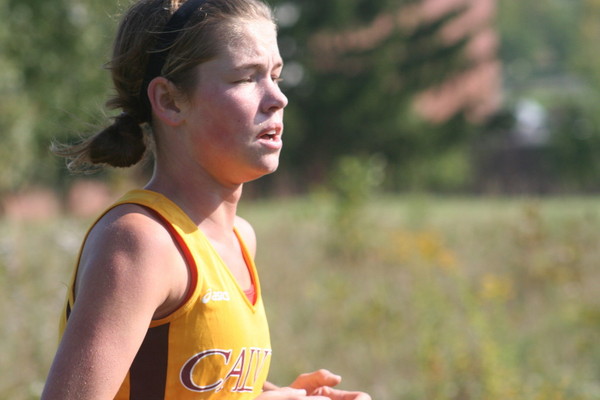 When the weather is awful, Calvin runs well.
This held true on Saturday as both the men's and women's teams took home the team titles in a race filled with nationally-ranked teams.
Even without two of their top three runners, the men defeated No. 1 North Central College by six points, a team they had lost to earlier in the year at the Notre Dame Invite.
The race boasted 11 ranked teams, including four in the top 10 and was delayed due to lightning strikes about an hour before the race. Once the lightning stopped, over 500 runners had a limited warm up time. The course was five miles of mud, deep puddles and a cold wind.
Senior Dan Kerr fearlessly led the charge, placing second in a time of 24:49.79. Senior Job Christiansen placed eighth in 25:17.84, and senior Dave VandeBunte, junior Sam Kerk and senior Greg Whittle rounded out the top five in the mid-25s.
"The race went pretty well; we were off our game plan in the beginning, but we didn't panic," said VandeBunte. "We put five in the top 15, so in that respect it was a great race."
Sophomore Steven Haagsma was sixth for the team placing 49th in 26:01.23, sophomore Josh Ferguson and senior Kevin Peterson were 65th and 66th in 26:09.21 and 26:09.30, respectively. Sophomore Jacob Kuyvenhoven was 86th in 26:22.09 and Senior Rhett Morici rounded out the top ten in 94th in 26:27.02.
The men's team is turning its focus to conference next week at Albion. "It's just one step at a time," said Kerr.
"I think that the top guys on our team need to focus on winning the national championship. We need to sweep our postseason," said coach Al Hoekstra. "To come back today and finish what we didn't finish at Notre Dame is huge. We didn't allow North Central to get back into the race. A lot of my boys grew up today."
The women upset defending NCAA DIII champion No. 6 Washington University, and defeated a field that featured eight nationally-ranked teams.
Senior Alyssa Penning finished sixth in 21:54.11, Junior Nicole Michmerhuizen was ninth in 22:23.63, sophomore Kimby Penning was 19th in 22:41.79,  sophomore Lizzy Vannette was 23rd in 22:46.53, and the top five was rounded out by freshman Mckenzie Diemer who was 29th in 22:52.06.
"The women had another very solid performance. They are proving race in and race out that they could possibly finish within the top four to six teams in the country," said Hoekstra. "The women's team has just come on and has really run very very well. They are an overachieving team that is starting to believe in themselves, and that makes us very dangerous."
At their next race, the girls have a showdown with Hope, the team who beat them at conference last year.
Looking toward conference, Vannette said, "Looking at last year, losing to Hope, we are determined to beat them. This race just showed that we have the talent to get first in conference and we are just looking forward to regionals and nationals."
Both teams were exuberant about their victories. Conference is in two weeks at Albion, where the men have won 25 years in a row, and the women hope to take back the crown.