Women's soccer falls to Hope, takes second place in MIAA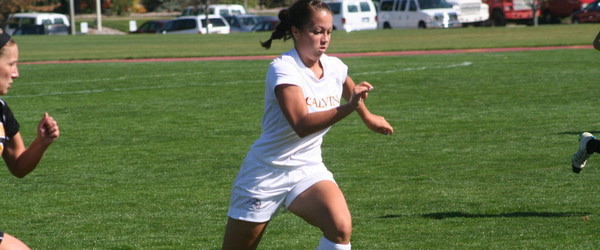 The women's soccer team traveled to Hope looking to defend its nine-year undefeated streak in Holland on Wednesday.  The Knights put up a tough match, but the Flying Dutch prevailed winning 2-0.
In the 21st minute of the game, a Hope forward broke through the defense and crossed the ball into Calvin's box. A Calvin defender tried to clear it but mishit the ball off the post and into the net.
The Flying Dutch scored again 10 minutes later off a header from a corner kick. Calvin continued putting pressure on Hope in the first half but could not score.
In the second half, the Knights had a slight advantage in possession but could not break Hope's defense. Junior Kelly Koets came closest to a goal on a shot that went just wide.
Calvin outshot Hope 14-10 but did not have a single shot on goal. The Knights were flagged for offsides seven times while the Flying Dutch were flagged once.
This is the first win since 2003 that the Dutch have had over the Knights in Holland.
The Knights went on to host Kalamazoo on Saturday. Calvin defeated the Hornets 3-2.
Kalamazoo scored first in the 12th minute on a one-on-one with junior keeper Ashton Hearn. Three minutes later Koets passed to senior Francesca Smith on the far post who put the ball into the net.
Calvin took the lead ten minutes later when freshman Paige Capel received a pass from junior Danielle Carter and put it into the goal. The Knights had the lead into halftime and led with a 14-3 shot advantage.
Calvin continued to pressure the Hornets' keeper, and in the 75th minute, Koets took a header from Smith and tapped it into the goal.
With under ten minutes remaining, Kalamazoo took a long shot that was out of sophomore keeper Lauren Merz's reach.With that goal, the score was brought to 3-2 which would held for the remainder of the game.
The Knights had a 22-10 shot advantage throughout game and had four more corner kicks than the Hornets.
The Knights are one point behind Alma as of Monday at the halfway point in the season.
Calvin plays again on Saturday when it hosts Alma at noon on Zuidema Field.