Women's golf takes second at Calvin/Hope D-III challenge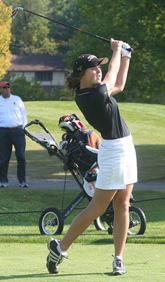 At the third MIAA Jamboree of the year, the women's golf team took fourth overall, earning a team score of 342 strokes in South Bend, Indiana on Wednesday, Sept. 26.
Junior Carlia Canto was Calvin's top golfer, placing fourth individually with an 83. Freshman Casey Harkema had an 85, senior Elise Doezema an 86, freshman Jennie Poole an 88 and senior Rachel Whitaker a 101.
At the Calvin/Hope Division III Challenge, the Calvin Knights took second in the two-day challenge. After posting a score of 348 on Friday, the Knights came back with a strong score of 340 on Saturday, coming to a two-day total of 688.
Canto had a 75 on Saturday to take first place in the final tournament standings as she carded a round of 80 on Friday. Doezema picked up the pace on Saturday with a round of 83 after shooting 91 on Friday.
Friday's initial 18-hole round was hosted by Calvin at the Thornapple Pointe Golf Club while Hope hosted Saturday's 18-hole round at the Macatawa Legends Golf Club.
The Knights compete again on the Oct. 6 at Adrian's Lenawee Country Club for the fourth MIAA Jamboree of the season.