Women's soccer loses to Alma, conquers Albion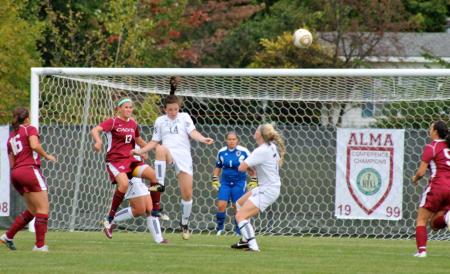 Calvin women's soccer team fell to Alma 2-1 in overtime at Alma's field Wednesday. The Knights outshot the Scots throughout the entire game, but were only able to get the goal once.
With 17:30 left in the game, junior Kelly Koets made the shot with an assist by junior Danielle Carter. Calvin kept up its great defense throughout the rest of the half, keeping Alma from scoring but unable to score themselves.
But in the last few minutes of overtime, the Scots were able to slip past Calvin's defense and Alma's Mackenzie Smith scored the winning goal.
"The game against Alma was our first away MIAA game and was a good test to see if we can compete with some of the top competition in the conference," said senior Francesca Smith.
"We definitely realized we can have that ability," she continued. "We continue to challenge each other to play with more speed and work on using the width of the field and playing each other's feet."
A few days after the game against Alma, the Knights hosted Albion in the first women's-men's soccer doubleheader of the season.
The Knights blew away the Britons in the first game of the double header, outscoring them 11-0. Two goals apiece were scored by Smith and freshman Taylor TenHarmsel. Also scoring goals for Calvin were senior Liz Cancel, sophomore Paige Capel, Carter, junior Heidi Scholten, freshman Abigal Ploeg, Koets and freshman Christina Drost.
"The Albion game we did a great job of playing as a team, really keeping possession and being aware of our structure on the field," said Smith. "We have learned a lot from each game so far and want to keep pushing each other."
"I love our team's enthusiasm and love for the game of soccer," she continued. "We have a lot of fun together as a team. Even though we are a young team, there is a lot of energy and desire to be as good as we can be for each other and more importantly to glorify God with this gift of playing."
The Knights look forward to their busy schedule this week and taking on their next opponents with a great attitude. The Knights play at Saint Mary's on Thursday, Sept. 27 and host Adrian on Saturday, Sept. 29.