Aquinas too much for women's golf in opener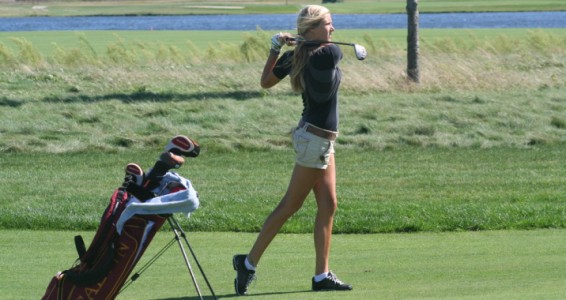 Coming off a strong 2011-12 season in which they finished fourth in the MIAA standings, the Calvin women's golf team opened up fall play last weekend with a friendly dual match against nearby Aquinas at the Thornapple Point Golf Club. Aquinas was too much for the Knights, however, as the Saints took the 341-368 victory.
Leading Calvin in scoring was senior Elise Doezema, who shot an 85, followed by junior Carlia Canto — the Knights' top golfer last season — who finished with a 90. Both Doezema and Canto were named to the All-MIAA second team last season.
Rounding out the scores for the Knights were freshmen Casey Harkema, who shot a 94, and Shara Reynolds, who shot a 99, two of five freshmen on the squad this year. Meanwhile, Doezema, Canto and senior Rachel Whitaker are the only upperclassmen on the team.
There are no sophomores, leading to a small, inexperienced squad that will have to rely on its veteran players if it wants to return to the MIAA Tournament in the spring.
Still, head coach Jerry Bergsma saw some promise against the Saints and looks forward to the opening of conference play.
"It was much windier today than the past couple weeks. We didn't play as well as we could have, but I saw good things, and am excited for Olivet next weekend."
Calvin travels to Olivet on Friday where they will play Friday afternoon and Saturday morning at the Olivet invitational. The match will be played at the Medalist Golf Club.