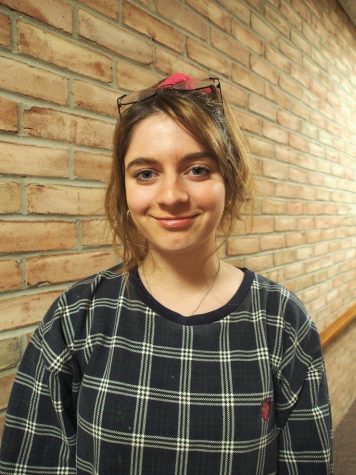 Bella is the new co-editor for the sports section of
Chimes.
She's a sophomore from Lake Orion, Mich. and a political science major with a journalism minor. She's conveniently interested in a career in sports journalism, and is excited to get some editing experience under her belt, as she has already been a staff writer for
Chimes
since the beginning of this school year.
Isabella Ebbert, Sports Co-Editor
Apr 25, 2018

Candidates share platforms at student senate debate

(Story)

Apr 18, 2018

Women's rugby season ending, but team relationships last

(Story)

Apr 06, 2018

New women's soccer coach hired

(Story)

Mar 03, 2018

Senior athletes reflect on careers

(Story)

Feb 21, 2018

Grand Rapids bid for Amazon headquarters fails

(Story)

Feb 09, 2018

Staff, students speak on Nassar scandal

(Story)

Feb 06, 2018

Local socialist group discusses implications of MeToo

(Story)

Dec 08, 2017

Knights of Calvin: Brandyn Louwsma

(Story)

Dec 08, 2017

Art department to have new theme for 2018-2019

(Story)

Dec 06, 2017

Knights of Calvin: Brett Avery

(Story)

Nov 03, 2017

Calvin alum starts business supporting senior citizens

(Story)

Oct 27, 2017

Constitution series debates political polarization

(Story)

Oct 23, 2017

Las Vegas shootings has close repercussions

(Story)

Oct 13, 2017

Farmer banned from market

(Story)

Sep 29, 2017

Protesters react to DeVos speaking at GRRC

(Story)