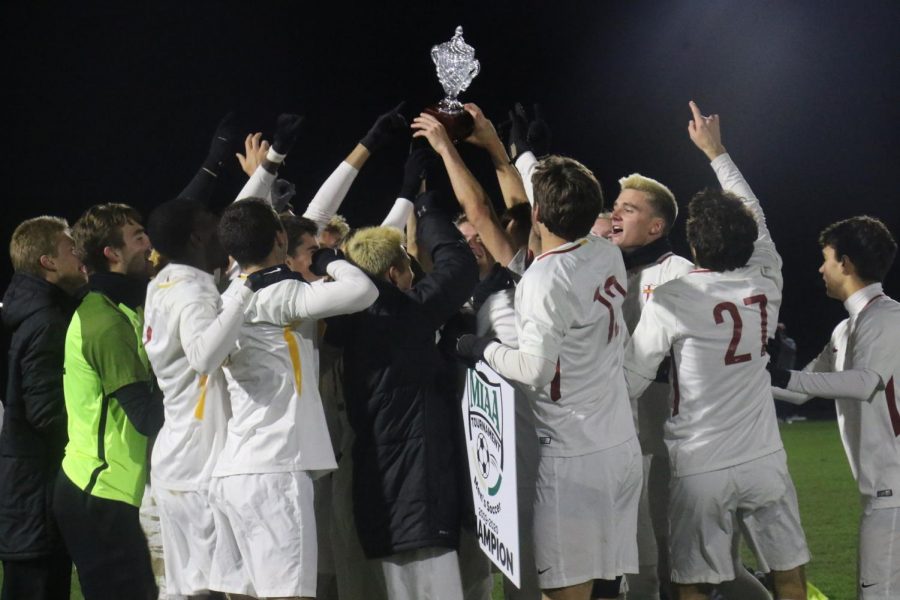 Calvin owned the rivalry with Hope College Saturday, defeating the Flying Dutch in the MIAA tournament title games for both men's soccer and volleyball.
The men's soccer tournament title was the sixth consecutive for the Knights. While the Knights have dominated the tournament, this championship game was not a landslide.
After knocking off Hope 3-1 earlier in the season, the Knights knew that the Flying Dutchmen would be looking to avenge that loss with a championship on the line. While both teams had several chances in regular time and each overtime period, neither side could find the net. The championship would be decided in penalty kicks.
Calvin overcame an early deficit in the penalty frames to win it in a shootout. Huge saves from junior goalkeeper Chris Morrish in the third and fourth frames allowed senior Hunter Olson to win the shootout 4-3 on the final shot.
"Something that makes this title different is the thrill of a penalty shootout," sophomore midfielder Trevor Niewenhuis said. "Having the rivalry at home with great support from our fans made it a night to remember."
This was the sixth straight tournament title for Calvin men's soccer. The last time that the Knights did not win the tournament was in 2013 when Hope beat them on penalties, 5-4.
"Chris saved our bacon with a couple of huge saves," head coach Ryan Souders said after the win. "Every guy on this team is bought in and invested in what we are doing," senior midfielder Jacob Lyon added.
The men's soccer team knew that they were not the only team participating in a championship game with a rival Saturday, as Calvin and Hope would play in the MIAA volleyball tournament final after the soccer game. Junior center back Drew Van Andel said he and his teammates had a "we have to do our job so that we can support them as they do theirs" mindset.
Calvin volleyball did their job Saturday night as well. They defeated the Flying Dutch in four sets to claim Calvin's second tournament championship of the day. This was the eighth time in nine years that Calvin volleyball took home the tournament title.
Head coach Amber Warners showed a lot of respect for the Flying Dutch, a team that had beaten the Knights in four sets at Calvin just two weeks prior. The Knights were determined to keep that loss from happening again. "Losing in a rivalry is a bitter pill to swallow and it gave us great motivation," Warners said. Senior Sarah DeVries agreed, saying, "We knew we could be upset and angry about it, but we decided not to dwell on it or mope about it and just keep playing."
Despite winning the conference, coach Warners knows that there is always more to achieve. "We never take winning a title for granted," Warners said Saturday night. "But we know it is never enough." The Knights will take that mentality into the NCAA III tournament, where they will face DePauw in the first round on Nov. 15 at 8 p.m.
Men's soccer has confidence heading into the tournament after grinding out a dramatic victory over Hope. "Saturday's game told me that this team can fight," Van Andel said. Calvin men's soccer will play Wisconsin-Whitewater at 1 p.m. on Friday for their NCAA III tournament kick-off.
Both men's soccer and volleyball lost in the national championship game last season. While still relishing their triumphs on Saturday over Hope, both teams understand there is more to be done.