Calvin Soccer and Volleyball Continue to Chase Glory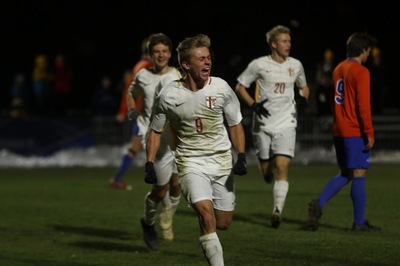 This past weekend both the men's soccer team and women's volleyball team were in action at their respective NCAA Division III tournaments.  
Our ranked third men's soccer team captured the MIAA title after defeating our rivals Hope in the semifinal and then downing Adrian in the final to lock in their ticket to the NCAA tournament. They began the tournament successfully with two victories — over Greenville in the first round in a 4-0 masterful showcase and Wisconsin Platteville in a gritty 2-0 win in the regional championship — and advanced to the third round of the NCAA tournament. The outstanding performers from our team were Jacob Witte, who managed to score a brace against Wisconsin Platteville, and Lucas Albrecht, who scored two out of four goals against Greenville.
Similar to our men's soccer team, our women's volleyball team also captured the MIAA title and a spot in the NCAA Division III tournament. They also were successful in the first two rounds as they defeated Wisconsin Whitewater in four sets in the first round and defeated Wittenburg in a nail-biting five-set match that came down to the final point in order to secure the regional championship. In this bout we were lead by Anna Kamp, who had 18 kills, and Sarah Devries, who notched a triple double with 14 kills, 21 assists and 21 digs.
Both of these teams continue tournament action this weekend. Our men's soccer team will face off against Penn State-Behrend at Ohio in the third round sectional semifinal. Our women's volleyball team is the top seed and they will play eighth-seeded Aurora University in the quarterfinals at Pittsburgh, Pennsylvania. This will be the second time these two teams have matched up after the first battle resulted in Calvin winning a spectacular five-set match. If they defeat Aurora University they will go on to play the winner of the match between UW-Eau Claire and Babson on Friday.