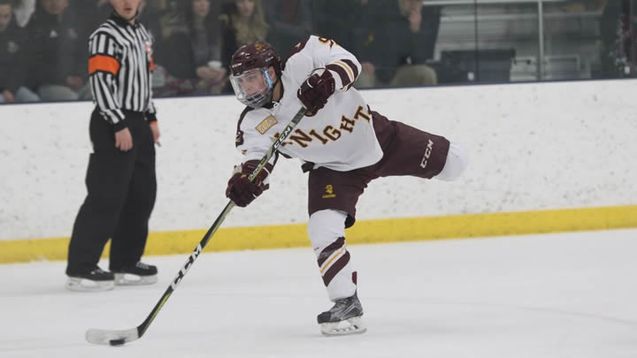 New head coach, Jim Hartlein, has already made a difference to this year's hockey team within the first four games of the season. Through new game plans and new culture, Hartlein has brought a winning combination to Calvin
After finishing 0-19-1 a year ago, the Knights have jumped out to a 2-1-1 start, including wins over Western Michigan and Davenport.
The defense has seen massive improvement, allowing only 2 goals per game after allowing 6.05 per game last season. The offense has seen a jump in production as well, scoring 3.5 goals per game compared to the 2 per game they scored last year.
Sophomore Jon Hull credits the newfound success to Hartlein's coaching philosophy.
"Our mantra is giving everything we've got at every stage: in a game, in a practice, if we're off the ice, wherever. The team has really bought into the culture and the goals that we want to accomplish."
Along with a new culture and goals, Hartlein has brought high standards that push his players to perform to the best of their abilities.
"He holds us to high standards; he holds us responsible for our goals. He's committed to working us hard and he's bought into our goals as well," said Hull. "Working hard every time we step on the ice is the first step toward making our goals happen."
Clearly, new coach Jim Hartlein is just what the DIII team needed after a season that left a goose egg in the win column. Even though it has only been four games, this team is performing at a high level of play that should make fans excited for the rest of the season.
As far as how well this team can do down the stretch, Hull is very confident in his teammates and new coach.
"I think we can go to Frisco, Texas, and play in nationals."
The DIII hockey team plays at Eagles Ice Center on Friday, Oct. 26, against Schoolcraft.