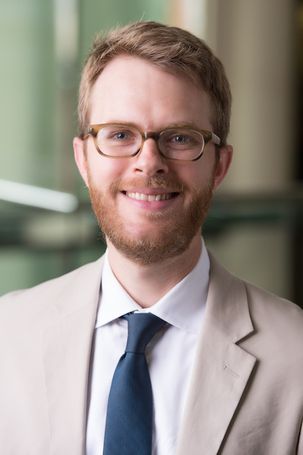 calvin.edu
Professor Jesse Holcomb was hired to teach journalism, digital media and communication at Calvin College in the spring of 2017 and began his work last fall. In addition to teaching he serves as the advisor to Chimes, the official students newspaper of Calvin College.
Early Career
Holcomb is a graduate of Gordon College of Wenham, Massachusetts. While he was a student there he first encountered journalism.
"I'll never forget that rush of reporting a story that was going illuminate something that no one in my college community was really talking about," recalled Holcomb. "The feeling of having access to the people who ran the college, and the ability to get their attention was just something that stuck with me. The ability to shape the conversation in the college community as a student was really exciting."
The context that Chimes has to work within is familiar to Holcomb; Gordon College is also a private, Christian institution. With  this lens from his own experience during his time in college, Holcomb recognizes the unique challenges that come with being a student journalist at a Christian, higher-education institution.
After graduating from Gordon, Holcomb worked with Sojourners Magazine. Writing such things as features, columns, interviews, and short blogs posts gave Holcomb exposure to the many forms that journalism can take.
Also in his early career, Holcomb covered statewide environmental and energy politics for the Public Interest Network, which provided  experience with newsletters and website content.
Holcomb went on to complete his masters degree at George Washington University's School of Media and Public Affairs. From there, he transitioned into his role at the Pew Research Center, where he worked for 10 years.
"Working at Pew was a unique experience because not only was I doing research about the state of journalism and news, I was also able to do reported journalism about those issues too. So on one hand I was deeply involved in data, on the other hand I was working with and learning from some of the best journalists in Washington."
While at Pew, Holcomb aided Tom Rosenstiel and Bill Kovach in revising the most recent version of their book, The Elements of Journalism. He was also a co-author on nine State of the News Media reports that chart the course of the industry.
Transition to Calvin
"I had been at Pew for a decade, and I felt that I was ready to try something new. I had always had an interest in going into the classroom," confessed Holcomb. That desire for a change, and the fact that his wife had grown up in the Grand Rapids area and still had family there were factors that led to the decision to come to and work at Calvin College.
"It presented an opportunity to do something I wanted to do, but also to get out of Washington and be closer to some family. Those two things combined to make this a great opportunity," remarked Holcomb.
The opportunity in question came up through a connection that Holcomb had made through his work in Washington. He and Calvin alum, Ryan Struyk, formed a friendship. It was through Struyk that Holcomb found out about the job.
"I thought to myself that if Calvin is producing alums like Ryan, then there's something going on here, and I would be thrilled to be part of an institution that's producing graduates like that," said Holcomb.
When he came for an interview, part of that interview was to meet with an editorial team from Chimes staff.  At the time, this team consisted of Joshua Parks, Maddie Hughey and Carolyn Muyskens.
"That was just a highlight of my interview day here," Holcomb recalled. "They were so much fun, they were curious, they had a sense for adventure, they were bold and super nice. And I thought 'I would love to work with students like these; in the classroom and out of the classroom.' So that got me even more excited about the job."
A large part of Holcomb's position at Calvin is being the advisor of Chimes. It has been something that he has enjoyed in his time at Calvin so far.
"Working with the student newspaper, I talk about it as the sleeper hit of my time so far. I knew I'd love it, but I didn't know just how much. There's a certain kind of energy when students have a control over something they make and pour their own efforts into."
As advisor, Holcomb will provide advice to the Chimes staff when they stand in need of it as well as offer resources and experience. He has played a role in the training of new staff members and aiding aspiring student journalists in gaining a grasp of what journalism should be. Rather than taking charge of the way the paper is run, he stands alongside. He provides helpful feedback and advice, but does not control the formation of the paper itself.
As advisor, Holcomb holds a seat on the Student Publications Committee (SPC) which was formed in 2016 to help support and provide resources for both Chimes and Dialogue.
"I'm really excited about helping students navigate the unique challenges that present themselves at a faith based institution. I think that this is a moment where Calvin has the opportunity to help point the way toward a form of student expression in journalism that has integrity, is grounded in facts, and honors the principle of freedom of the press. That is the challenge of our time, and a lot of people are watching. It matters for democracy and this is the laboratory for that."
In addition to teaching at Calvin, Holcomb is currently working with the Institute for Nonprofit News and the Montclair State University's Center for Cooperative Media on applied journalism research projects.