A new chapter of PERIOD has started at Calvin college this year. PERIOD is an organization working to help women gain access to menstrual products and to lift the taboo around talking about menstruation.
According to their website they are "a group of young activists across the U.S. united by the belief that menstrual care is a basic right." PERIOD has three parts to their mission: "serve," "educate" and "advocate."
The group is an international organization with over 150 chapters; seven here in Michigan, including the new Calvin chapter. The organization is doing things like fighting the California tax on menstrual products as non-essential goods, delivering menstrual products to women in need and educating people about periods.
The Calvin chapter is student-started and student-led, with five students currently in leadership.
"I really felt like God was leading me to do something about it," said president of the Calvin chapter and current junior Rebekah De Lange. "I feel overwhelmed sometimes, because there's so many problems in the world, and this is an issue that I got really stuck on."
Wanting to make an impact, she "found an awesome team and we did something about it." It's an issue she and the other members of her chapter are passionate about.
A big part of PERIOD's mission is providing menstrual products to women in need, and each chapter is partnered with an existing organization in their community. The group is teaming up with Dégagé Ministries, an organization working with the homeless population of Grand Rapids.
In America, there are "more than 200,000 homeless women who have to worry about their next meal, where to sleep, let alone taking care of their sexual hygiene and periods," explained junior Shaun Tai, the marketing and advertising coordinator for the Calvin chapter. "They end up using dirty paper bags on the streets, or whatever they can find. You would think that in 2018, women in America would have the means and the ability to take care of such an essential part of their personhood, and yet that's just not true."
The group is currently hosting a period product drive for Dégagé through September 26th. Bins for students to drop off pads and tampons — both loose or in sealed packages — are located in dorm lobbies, DeVos lobby and the Sociology department.
On the 27th, the group will host a packing party for those products in the Noorderweir basement, and from there will send them off to Dégagé to give to women in need. The group has a goal of having two packing parties per semester.
"We are called to 'Act Justly', and as a club, we don't want to just keep change within our safeguarded campus," Tai said, "but extend action and service to the greater Grand Rapids homeless and underprivileged communities."
The group will be partnered with Dégagé in other ways as well. In October, the group will be teaming up with them for a service project.
The group also hopes to educate Calvin students about periods through their events. Throughout the year, they will be bringing in speakers, such as someone from Dégagé.
The group will also be hosting workshops for Calvin students.
"We'll get certified to lead these workshops" through PERIOD, De Lange said, such as "Cup and Cloth, which is [about] using sustainable menstrual products." The group will be leading other workshops PERIOD offers for its chapters as well.
One of the biggest things the group strives to accomplish is to start a conversation on Calvin's campus.
"The number one thing, for me, is just to start a conversation about periods, and also about doing tangible things to help people," explained sophomore Karolyn DeKam, co-vice president of the chapter.
"We hear it our whole lives; it's not something you talk about," she said, and she hopes her group can work to change that. De Lange agreed.
"We have so many nicknames for periods, it is ridiculous — it's just something that happens and we should call it what it is. But people dance around the subject," De Lange said.
The group is already stirring a lot interest among Calvin students. The group was present at Cokes and Clubs, where they were handing out twizzlers with information about the club, and talking with students about the issue.
"We had 186 people sign up at Cokes and Clubs for the email list," De Lange said. She is excited about the conversations their group is already starting.
"That's 186 people that we personally got to talk to and share with them the mission of PERIOD. Even having the table there was getting the word out and removing the taboo and talking about the issues. That was in and of itself really cool."
There were a lot "of people that were like 'this is an issue?' or had never thought about it before, specifically guys, which is something cool," De Lange commented.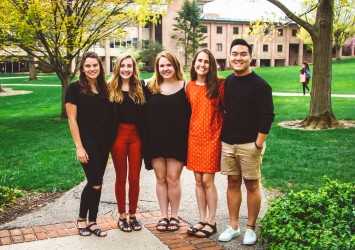 "I'd like to see more Calvin students, but guys especially, educated about periods," Tai said. "I wasn't even aware of there being stigmas about periods and how many women were discouraged from talking about it."
Tai, a guy himself, is very passionate about the issue, and hopes other Calvin students will become passionate about it as well.
"I'm not expecting every guy to take interest in the topic," he said, "But the way I see it, periods are experienced by half of the world's population; to care even a little bit about the lack of access and hygiene to simple essential product solutions for women is to care a lot. That's why I'm passionate about the topic, because something so natural is not treated as such."
Calvin's chapter of PERIOD is led by a passionate group of students, and between the Period Product Drive, service projects, workshops and speakers, there are a lot of ways for Calvin students to get involved.