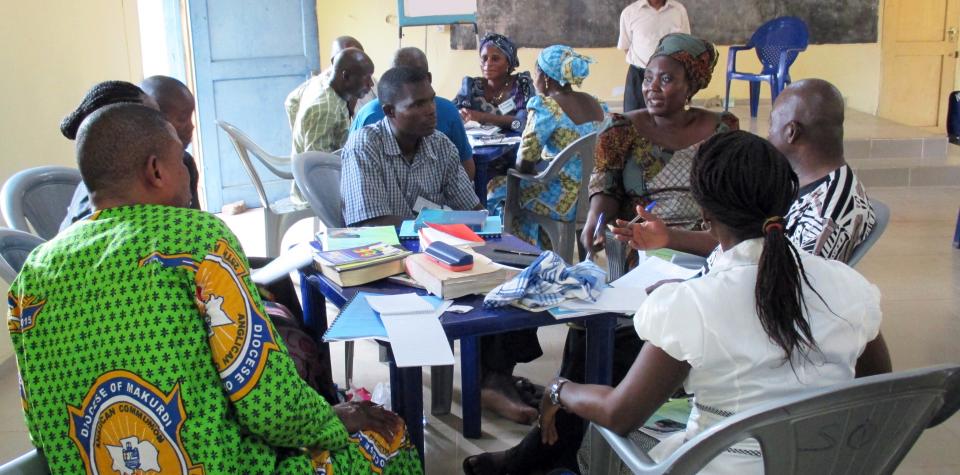 In Nigeria, religious faith is a strong legacy passed down from one generation to the next. Calvin senior Chinelo Ezenwelu grew up in Lagos State, Nigeria. According to her, "Irrespective of our different faiths, you almost never find a Nigerian who does not believe in the existence of a supernatural being."
In addition to being highly religious, Nigeria is a religiously diverse state, with many Muslims, Christians and some Traditionalists (Christians who emphasise rituals, symbols and sacrifice). The combination of religious fervor and diversity can sometimes lead to hostility between those of different faiths.
The town of Wukari, Taraba State, Nigeria, is home to the headquarters of the Christian Reformed Church of Nigeria. Wukari has seen much violence in recent years, especially between Christians, Muslims, Traditionalists and other religious and ethnic groups. According to the Christian Reformed Church in North America (CRCNA) website, in 2014 "a dispute over a phone recharge card" left "100 people dead and hundreds of buildings destroyed in the town of Wukari, Nigeria." This has contributed to what Nigerian professors Kingsley Nnorom of Kwararafa University Wukari and Jude Odigbo of University of Nigeria call "one of the worst security challenges in Taraba State."
In response to the violence, the CRC's Office of Social Justice (OSJ) has supported the peace-seeking efforts, as well as other CRC-backed agencies such as Christian Reformed World Missions. Since 2015, these organizations have worked together to plan the beginning of the Wukari Peace Process between Muslim and Christian leaders.
Dr. Hizkias Assefa lives in Nairobi, Kenya and travels the world leading efforts at reconciliation. Although his 2015 visit to Wukari was cancelled due to safety concerns, he was able to facilitate a four-day consultation in Wukari in January 2017. He patterned the consultation after a previous conference he led in Takum, a Nigerian village merely 80 kilometers from Wukari. Local leaders across ethnic and religious lines gathered to begin the Wukari Peace Process.
Despite the religious diversity, the peace-keeping efforts have been focused on the commonalities of religious belief. One of the results of the consultation in January was the formation of an Inter Religious Implementation Committee.
According to the report recorded in The Banner, the official magazine of Christian Reformed Church, "The consultation process enjoyed a high degree of trust from all the participants, but the trust from the Muslim participants was particularly remarkable" as none of them had participated in the earlier efforts to build peace in other Nigerian villages.
Growing up in Lagos State, Nigeria, Chinelo Ezenwelu did not experience religious hostility firsthand, "mostly because I lived in a predominantly Christian community." She added, "My family and relatives are predominantly Catholic."
While she admitted that family heavily shapes religious beliefs, "It also depends on what part of country you reside in. The dominant religion in the Northern part of Nigeria is Islam, that in the South, East and West is Christianity and in some rural parts of the country, Traditionalism prevails."
When describing her experience of Christianity in Nigeria and in the United States, Ezenwelu focused on the similarities between the two. "In general, Christianity in Calvin is not that different from that in Nigeria," she said. "The same truth is generally preached and there are similar [worship] practices."