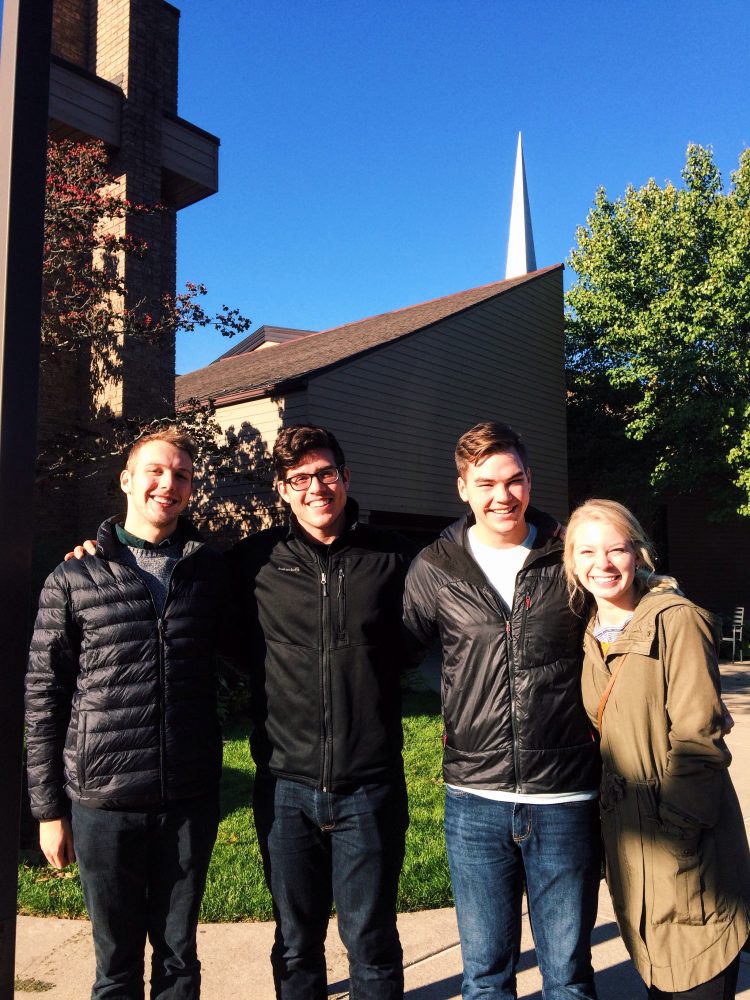 One consistent characteristic of Thornapple Covenant Church is intentional, skillfully-led worship. Located about ten minutes from Calvin in Cascade Township, this community of believers draws 30 to 40 Calvin students each week. Students can choose to attend one of two Sunday services: a contemporary service at 9 a.m. and a blended worship service at 10 a.m. Services typically last one hour.
Andrew Twining, a senior engineering major at Calvin, likes to attend the contemporary service each week. One of his favorite aspects of Thornapple is the worship: "The church's worship teams are very skilled and like to incorporate a lot of different styles or arrangements that keep the music instrumentally interesting. They also like to use hymns and a choir." Twining said he appreciates the high level of musicianship and thoughtful song selection at Thornapple, as well as the "singable selections and keys and effective incorporation and teaching of new songs."
According to the church website, a central goal of Thornapple's worship is "to create a worship environment that reaches into the spiritual depth of the past while embracing the new expressions of the present."
In addition to intentional worship, Thornapple prioritizes God's Word. According to Twining, "Thornapple places a lot of emphasis on good scripture reading and the importance of giving scripture its own time." Thornapple's attention to Scripture is characteristic of the Evangelical Covenant Church, which is the denomination that Thornapple belongs to. Other key aspects of Thornapple's worship include corporate prayer, time of confession, the Lord's supper, words of assurance and dedication.
Sermons at Thornapple are biblically founded and often include engaging anecdotes. Twining said that "Pastor Rob […] often gets very passionate and excited about the love of Christ and the need for the message." Messages are also influenced by the church's main mission, which is to create disciples who love God, grow in grace together, and serve sacrificially.
Thornapple reaches out to students by offering weekly rides and multiple student events. There are many ways to get involved, including small groups, a youth ministry, bible study and volunteer opportunities. While there are many ways to get plugged in, Twining said that you need to be deliberate about becoming involved. "I have found if you don't seek out opportunities in the church it is hard to get very connected. That might be the biggest downfall for the community."
Though it takes intentional effort to become involved at Thornapple, the community there is another of Twining's favorite aspects. He said that there are about 200 people who attend Thornapple on a weekly basis. Most of the congregation is composed of families of various ages. He said that the congregants are "very thoughtful in their worldview and care of others."
Overall, Twining recommends Thornapple Covenant Church to his fellow Calvin students because the church "cares a lot about people, formative worship and loving one another in good community."