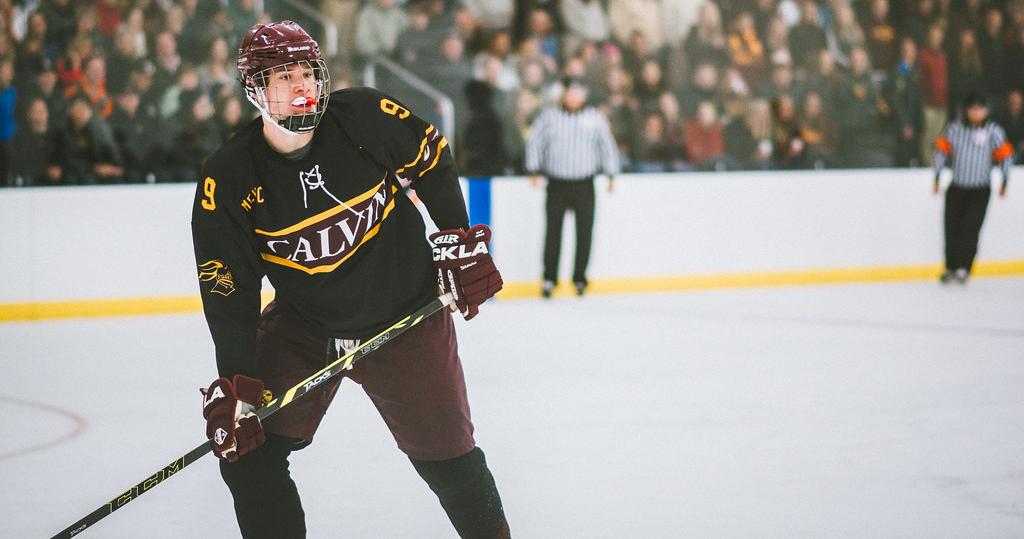 Last Friday night, the Eagles Ice Center was "blacked-out," filled with fans cheering and supporting the Knights in their rivalry game against Hope College.
The Calvin hockey team is now 13-5-1 after defeating Hope in both games over this past weekend, December 4 and 5.
On Friday, the Knights beat the Flying Dutchman 2-1, and then traveled to Holland on Saturday to shut out Hope 5-0.
In the first game, neither team scored during the first period of play. When the teams came back for the second period, junior Jordan Duncan was the first to score for the Knights, assisted by first-year student Tommy Rietema. Hope came back and tied up the game within the last five minutes of the game.
Calvin's Samuel Shaver scored the game-winning goal to pull the Knights ahead 2-1. Shaver was assisted by junior Justin Rohlicek and junior Austin Kath. First-year student Alex Gross recorded 32 saves.
During Saturday's win, senior John Conz scored first for the Knights midway through the first period. Duncan would also score at the end of the first period.
In the second period sophomore David Zwiers scored a goal to put Calvin ahead of Hope 3-0. Zwiers was assisted by Duncan and Rietema.
In the third period the Knights scored two goals, putting them ahead 5-0, which finished the scoring for both teams. Sophomore Ryan Bradley scored the first goal and first-year student Sam Shaver scored the second of the period and the final goal of the game.
The Knights now have a month break until they come back January 14 to play at Adrian College at 7 p.m.
Junior forward Cameron Bell is currently leading the team in points, which combines goals and assists, giving him 34 points on the season with 13 goals alone. He is followed by junior forward Ryan Racanelli who has 25 points on the season and 10 goals. Duncan currently leads the team in goals scored, with 15 so far this season.
Gross currently has a save percentage of .913, which means that of 483 total shots taken against Gross, he has only allowed 42 goals to score.