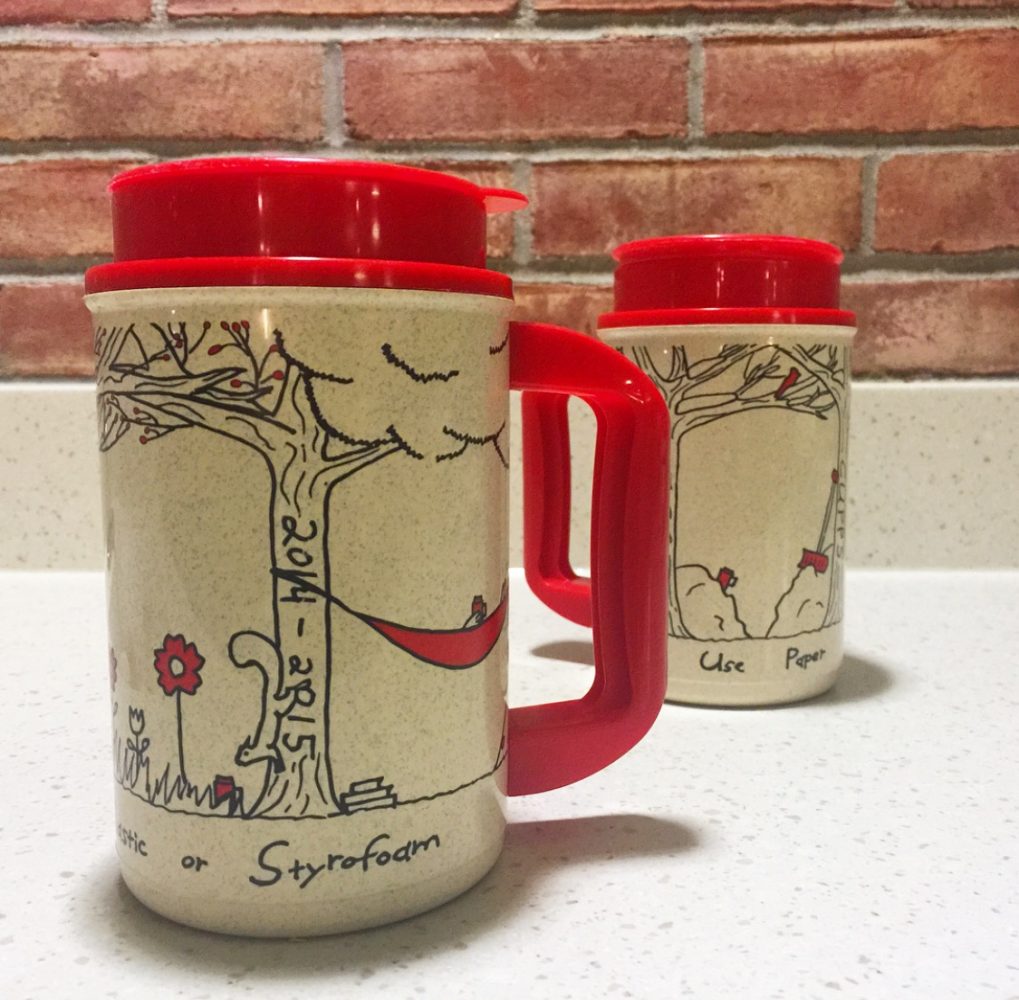 CUPPS mugs. They're great for getting drinks in the dining hall and getting discounts — plus, they look cool. But what is their purpose?
CUPPS is a program run by the environmental stewardship coalition (ESC), a student organization focused on environmental concerns at Calvin College. As it says on the mugs, CUPPS stands for "Cannot Use Paper, Plastic or Styrofoam." They were created in order to cut back on the use of disposable cups.
Jon Gorter, a junior member of the ESC, said, "the purpose of CUPPS mugs is to raise awareness about our disposable culture, encourage reuse through CUPPS discounts at the Fish House and to provide students with a reusable mug that can go in and out of the dining halls." The program has been running for at least a decade and is supported all over campus.
Through the CUPPS program, the ESC has enabled students to cut back on the number of paper, plastic and styrofoam cups going into the landfills. Gorter said it is important to "learn about plastic and styrofoam waste."
An organization also working to limit disposable cups use, carryyourcup.org, states, "Americans throw away 25 billion styrofoam coffee cups every year, and 2.5 million plastic beverage bottles every hour." Through the CUPPS program, Calvin students and faculty are able to lower the number of disposable cups they throw away.
According to the Calvin webpage, Creative Dining Services supports the program, as part of their commitment to the environment. Students can use the mugs to get drinks in the dining hall — and many do, often using the mugs for coffee or tea.
Students and faculty can also receive a discount at the Fish House if they use their CUPPS mug or another mug instead of their disposable paper cups: the Fish House offers a 25-cent discount.
Derrick Kamp, a sophomore employee at the Fish House, said that the number of students who take advantage of the discount varies by the time of day.
"It seems that at night they're less likely to, so you maybe get one a night or so," he said, "versus in the morning [when] you get a lot of faculty who use either their own mugs or their CUPPS mugs." He estimated that in the morning around 10 to 15 percent of customers use CUPPS mugs or their own mug, keeping the paper cups they would have used out of the landfill and saving the customer a quarter — a win-win situation!
Not only are CUPPS mugs awesome for working toward helping the environment, they also look cool. Gorter said the designs for the mugs are created each year by "an artist [who] submits artwork that they've created to fit the mug." The designs themselves are what make the mugs memorable — the current seniors' mugs feature the purple squirrel, the juniors' a beautiful turquoise design and the sophomores' a design they affectionately refer to as "side-hoe."
Delia Mapes, a sophomore student, explains the name: "One of the first things many people noticed [about the sophomore mugs] is that if you look at the CUPPS mug in a certain way, it says 'side hoe' on it. So, a lot of people call it a side hoe, just as a joke." It's also popular among students to decorate the mugs with stickers. First-year students, your mugs are coming. Gorter stated that "they'll come out around Christmas."
The amount of use the CUPPS mug gets varies from student to student. Mary LePage, a junior, said she uses it "about four or five days out of the week." She said she "always puts coffee in it," and "fills it up throughout the day whenever I'm in the dining hall."
On the other hand, Emily Zerull, a sophomore, said, "I almost never use mine — I always forget it." A lot of students occasionally use their mugs. Sophomore Delia Mapes said she uses it "not that often. I'm not a coffee drinker, so I just every once in awhile remember to bring it to the dining hall."
Lydia Najmon, also a sophomore, said she uses it "just once or twice a month. I usually forget to use it."
Gorter recommends washing the mugs regularly, so they don't "absorb any old coffee or tea flavors." Especially for students living in the dorms, chances are dishes are not washed often. However, it's pretty quick and easy to wash the CUPPS mug in the coffee kitchens — just rinse it with hot water, as well as dish soap if it is available.
The ESC's CUPPS program not only gives students cool-looking mugs, but also enables students and faculty members to use the mug instead of a disposable one. It's a great way for students to grab their cup of coffee, or whatever their drink of choice is, in a cool-looking mug.