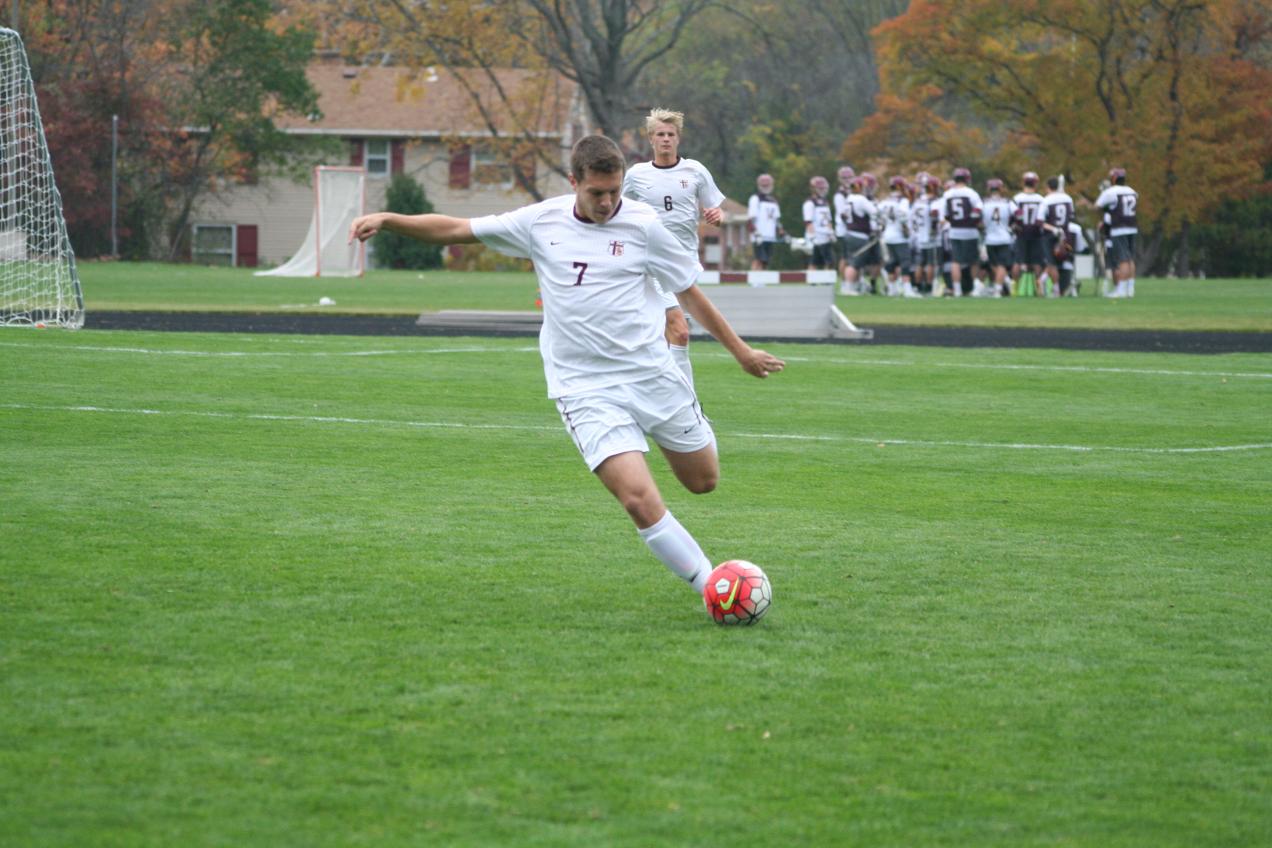 Men's soccer continued their winning streak of 15 games and is now 15-0-1 on the season. They are ranked third overall and first in the MIAA Conference.
Last week the Knights travelled to Holland, beating rival Hope College 5-1. They played at home against Olivet College on Tuesday and against Alma College on Saturday, winning both games with scores of 2-0 and 4-0.
Since the beginning of the rivalry between Hope and Calvin College in 1965, Calvin has never before scored five goals against Hope in one match, and Hope's program has never given up five goals against an opposing team.
Within the first 10 minutes of the match Calvin's Mitch Stark kicked the ball off of a defender and it ricocheted into the net. Sophomore Micah Beard also scored during the first half of the game. In the second half, senior Taylor Pruis scored and junior Isky VanDoorne scored twice, putting Calvin ahead 5-1. Senior goalkeeper Niko Giantsopoulos had four saves on the night and allowed one goal.
"It's always great to see the Calvin community support our team, especially the two Hope games. It really helped us push through those two games and get two positive results," said Giantsopoulos.
The previous Saturday the Knights competed against Alma at home and beat the Scots in a close 2-0 win. In the first half Pruis scored in the 13th minute with an assist from first-year student Trent Vegter. Junior Stephan Hooker scored from 15 yards out with an assist from first-year student Jacob Witte in the final minutes of the first half.
Hooker believes the team has really improved as a whole from the start of the season, and that they are headed down the right path to meet their goals. "Winning conference was our first goal because it would give us an automatic bid into the National Tournament, which is always the goal for the year."
This past Tuesday Calvin defeated Olivet, adding an 11th shutout to their season. Pruis was the sole scorer in the first half. Promptly in the second half, however, Hooker took a shot from 30 yards away, making the score 2-0 in favor of the Knights. Ten minutes later senior Nick Groenewold stretched Calvin's lead to make it 3-0 after his penalty kick. Stark also scored 10 minutes after Groenewold, making the final score of the match 4-0.
Giantsopoulos believes the rest of the season needs to be taken one game at a time. "Our fate is in our own hands, but if we look too far into the future mistakes are prone to happen."
Hooker agreed and acknowledged how easy it is to look forward to the conference and national tournaments, but for now the team needs to focus on each and every game individually.
This Saturday the men's soccer team will travel to play Adrian for a 7 p.m. game.