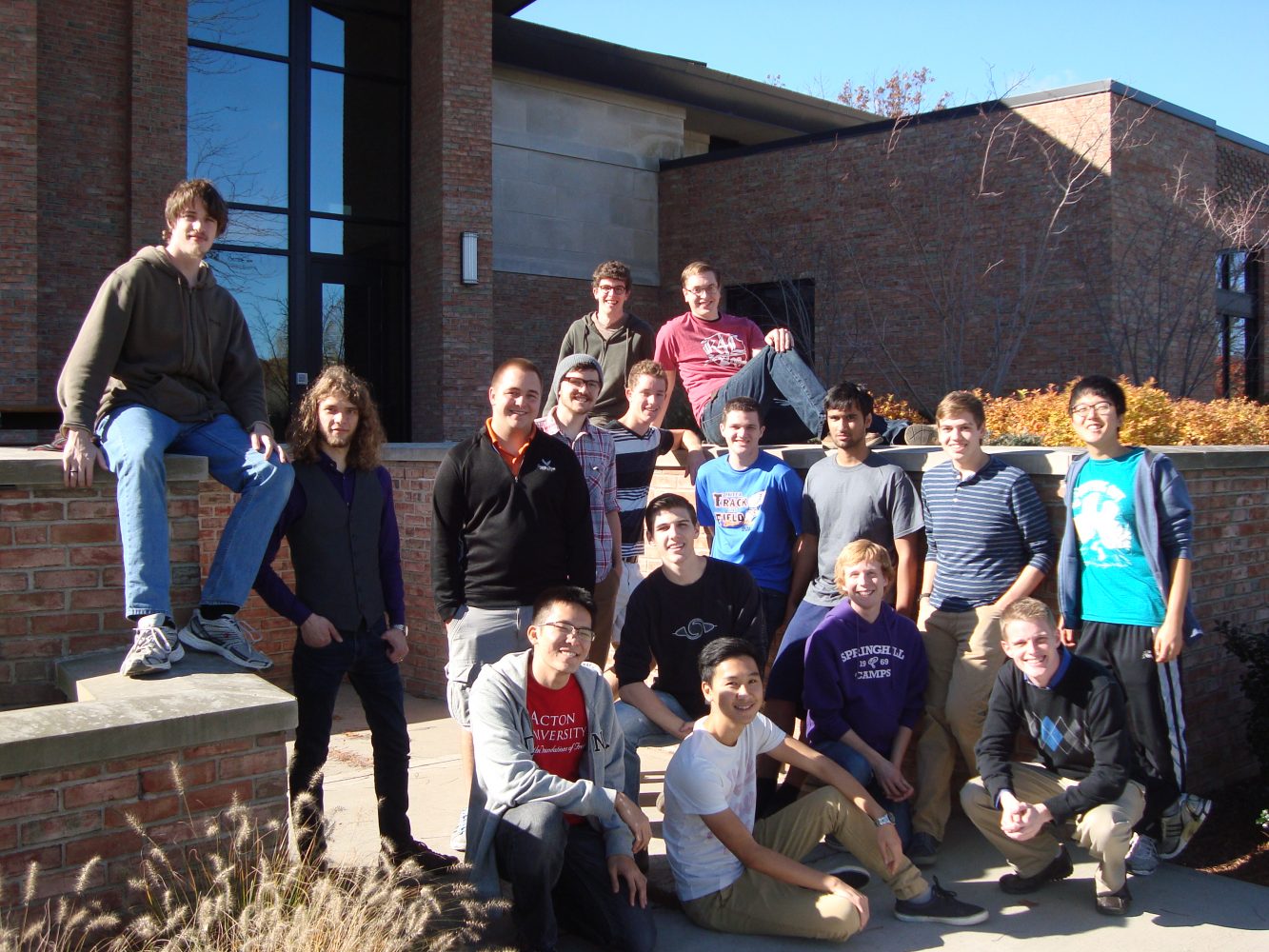 uKnighted, an all men's a cappella ensemble, will serve as the opening act for Home Free on February 20. The ensemble, referred to by some as Calvin's very own boy band, consists of 16 guys, ranging from first-year students to seniors, and is led by Paul Griffioen, Aaron Polet and Kelvyn Koning.
Griffioen started the group when he missed his high school men's a cappella ensemble and noticed that Calvin offered no such opportunity.
"We have Women's Chorale and a lot of mixed ensembles at Calvin, but there's nothing for men on campus," said Griffioen. "Our real purpose was to offer something that Calvin didn't."
"We don't have any other men's choirs on campus, so it's good to have a group where it's just guys," said junior Mike DeWeerd.
Senior Judah Weeks agreed. "We wanted the sound of an all-men's group. It's easier to blend the voices and makes us sound like a more cohesive group."
"It kind of gives us our identity, who we are as an a cappella group," said first-year student Lemuel Ong. "Take that away and we're just another group — there's really nothing else unique about it."
First-year student Matthew Meyle echoed his fellow members, saying that "men's choir has a unique sound. It's a completely different sound; you don't get it from other groups."
The ensemble has just recently become a student organization, meaning that they are now getting funded and can reserve rooms. "[First semester] we were just 16 guys who happened to meet in the same practice room and sing songs together," said Meyle.
However, the initial start-up was more difficult than Griffioen expected.
"There's a lot more logistical work that goes into leading something than I originally anticipated," he admitted. "First, you have to get people interested in it, and then because it's a smaller ensemble, you have to have everyone there all the time, so it can't be a 'come when you want to' kind of group."
Interested students were asked to sign up on a Google document and were each given a 20-minute time slot to audition. The audition tested their vocal range and how well they could match pitch. Each student was also asked to sing a prepared song. Griffioen, Polet and Koning were only shooting for 12-16 men, but 34 auditioned for the group.
"Cutting friends was the hardest part," Griffioen said. "A lot of the people that we would have liked to have in the group, we couldn't because we could only take 16; that's the nature of an a cappella ensemble."
"It was a little intimidating to be judged by a panel of peers," said Meyle. "If you go in for a regular choir audition, it'll be one of the professors there, which is less intimidating because they're not going to gossip to their friends about how bad a singer you are — not that any of the guys would do that."
Being in the group, in addition to musical benefits, also contributes to the friendships that members make with each other.
"With big choirs, you don't get as collaborative because you don't have the opportunity to form a friendship, whereas in a smaller a cappella ensemble, especially just a men's one, you get four guys — all singing the same part — who have probably had similar choir experiences, so you bond," said Meyle. "It's a good time."
"The nature of an a cappella ensemble is that there are not a lot of people. It's a small group and I like that a lot," Ong agreed.
Griffioen is excited about the way the group turned out. "It went way better than I originally thought it would," he said. "The guys are much more musically talented and pick stuff up way faster than I thought they would, and also people's response to our music was a lot bigger than I expected. There are a lot of guys in the group that are better singers than me by far."
"There's so many great parts about being in uKnighted," said Weeks. "One of them is being with a group of guys who really want to sing."
Members aren't the only ones who take note of their passion for singing. At uKnighted's first performance in the Fish House, the enthusiasm was apparent to first-year student and concert attendee Jordyn Stromback: "They were all really happy to be up there; they were having fun with it."
"They were all very chill up on stage," first-year student Kat Jonker agreed. "They all introduced themselves and were cracking jokes and stuff."
The group's first performance quickly packed. "When we got there, there weren't many people, but by the time we were done the room was full," said Meyle.
"There were people standing back behind the booths because they couldn't walk down the aisle," Griffioen said. "I wasn't expecting that at all."
Their second concert went equally well, almost selling out the Recital Hall in the Covenant Fine Arts Center.
What's so appealing about this musical experience? For Jonker, it's the talent. "I just know that that's really hard to do," she explained. "I like watching a cappella because it's exciting and I know it's difficult. I always feel like, because there's not an accompaniment, there's a lot of energy. There's really cool arrangements and because they don't have any instruments with them, they have to be percussive with their voice sometime or they have to have someone do the bass line."
Griffioen hopes that this group will become a permanent fixture at Calvin, giving the students an opportunity to sing and to have a great musical experience to remember. "I really hope it is something they look back on and are glad they did in college," he said. "Something that helped them become better singers but also something that's just a fun activity that they were able to participate in — something that they are glad they were a part of."