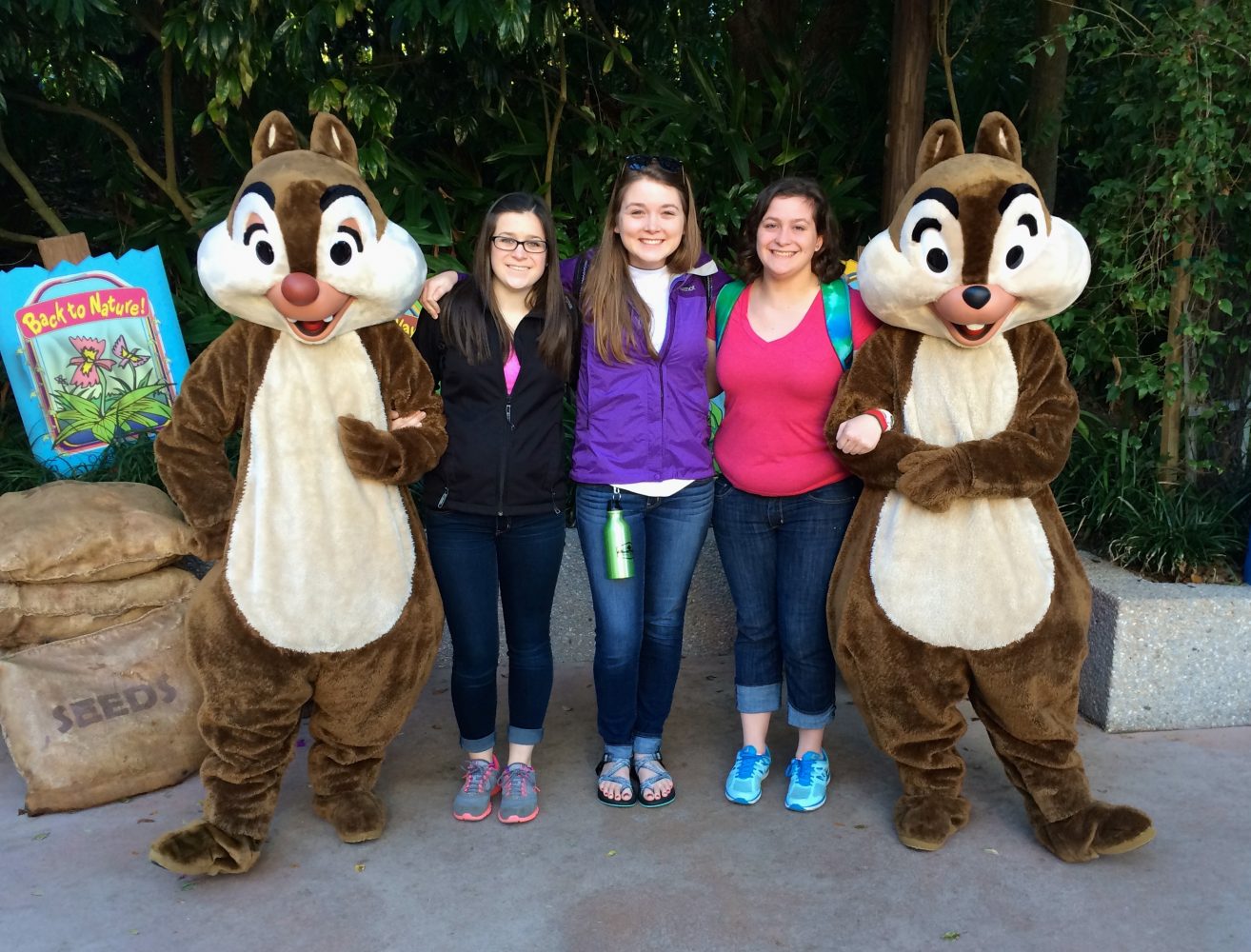 This year, Calvin political science professor Becca McBride took Interim to a whole new level.
She and 16 students spent six days this January in sunny Orlando, Fla., enjoying one of the greatest theme parks on earth: Walt Disney World. For three credit hours.
Like many who saw the promotional posters, senior Manabu Taketani applied, thinking it was too good to be true. "To be honest, at first, I was just expecting this to simply be a second winter vacation. I thought that I would just hang out with friends and enjoy my time in Disney World, which I did."
"But," he said, "the trip was much more than that."
Students spent the first four days of Interim on campus, attending lectures and doing assigned readings just like any other class. Their topics were culture and progress, which they applied to a case study of Disney World and its four parks: Magic Kingdom Park, Disney's Animal Kingdom Theme Park, Disney's Hollywood Studios and Epcot. They also had to write daily journals while on the trip and give a presentation when they got back.
Sophomore Isabel Marek, who had intentionally looked for an Interim class outside of her major, was equally enthused by both the prospect of the trip and the course's contents. "I had never engaged in these particular course topics so I was excited for new and challenging information," she said.
Upon arriving in Florida, students spent six days exploring all four parks under the guidance of McBride, who helped them reach all of their "required" attractions while avoiding long lines. They were assigned a different partner to go out with each day.
Marek said that this helped them see the park in a different light. "I really felt like I was able to experience [the park] through the eyes of people who have different backgrounds and perspectives than me. This was a refreshing and new way to experience Disney World," she said.
McBride said she intentionally put together a diverse group so the class could benefit from having different points of view represented.
"On this trip we had first- and second-generation children of immigrants, minority North American students, a Canadian student, a South Korean student and two students with physical disabilities," she noted.
"We also had students across several majors including international relations, political science, biology, communications, education, Japanese, French, history, psychology, business, art and pre-med. It has been so incredible to see the experiences from all these different disciplinary perspectives."
Sophomore Ryan Kelly was pleasantly surprised by the lasting power of the Disney experience. "I thought that probably by the third day I would be Disneyed and 'Magic-ed' out," he said. "However, as the trip went on I just kept being more and more excited for the next day."
But it wasn't all just cotton candy and roller coasters. In addition to enjoying the attractions, students also engaged in educational experiences focusing on culture, progress and team-building. As part of Disney's Youth Educational series, they took two classes on leadership development and working in groups.
They did a backstage safari at the Animal Kingdom and learned about Disney's animal care and environmental protection initiatives. They also took a "Behind the Seeds" tour of the sustainability labs at Epcot and met with the executive of Disney cast member training, which Taketani described as an "incredible privilege."
"It was unprecedented access to important voices in the Disney Company," added McBride, "and my students loved the experience."
Students said that the topics of the course really captured their minds. Junior Karyn Ostrem reflected on how the trip made her see Disney differently.
"Originally I had trouble seeing how exactly certain parts of the trip related specifically to progress," said Ostrem. "However, it became more evident that Disney is all about promoting progress in some form or another: Each park is set up to do so.
The Animal Kingdom, for example, exemplifies progress in stewardship of the earth, while Hollywood Studios shows progress in the film industry, Epcot shows cultural and technological progress, and the Magic Kingdom reflects progress of mindset and storytelling."
Ostrem also appreciated that even something as simple as a theme park could be a topic of academic discussion. "I got a better idea of how to apply things I learn in class in general to things in life that I wouldn't normally expect to," she said.
"People heard about the class and assumed I was signed up for a slack-off class, but it got me realizing that I can apply concepts of progress, communication and culture to even the most un-education-related sounding things, like Disney World."
Marek was inspired by the multitude of cultural perspectives she experienced through both the parks and the group of students. "Through this class, I have been able to recognize the complexity of life and people," she said.
"This complexity is challenging and frustrating at times, but the truth is, people and their stories are beautiful."
"This trip has really given me back an appreciation for pure joy and those companies who try to create happiness," said sophomore Ryan Kelly.
McBride noted that she believes there is more to Disney than just having fun.
"Disney requires you to look outside yourself and think about how you can serve others. Cast members do this, not just because it is their job, but because they love to creatively change people's experience," she said. "Not all the guests are intentional about noticing, but it is this aspect of Disney that makes the experience the most magical."
McBride, who made her 11th visit to the park, is a well-known Disney super-fan, according to students. The first time she went to Disney World was in graduate school, with her husband, 4-year-old son and 14-month-old daughter.
She said that going to school while raising small children had its difficulties. "It was a hard time for our family," she said. "When we looked back over our first year of graduate school, we realized that the only time we were a true family with no distractions was the week we were at Disney." McBride said that, since then, their trips to Disney have helped hold her family together and strengthened their relationships.
But her love of Disney has since broadened to professional areas as well. "Disney trains an incredibly diverse workforce to support the mission. They enable their employees to be cultural ambassadors and retain and represent their culture, but all employees are unified around a distinct mission."
McBride even took the inspiration she received from Disney and applied it to her teaching. "They allow failure because they view failure through the lens of future success. This is exactly the type of culture I want to create in my classes. I want my students to absorb the message that the world will remember you most for how you build on failure to move toward success, not the failure itself."
After years of teaching, McBride finally found the perfect opportunity to move her passion for Disney into the academic world. "The more I learned about Interim, the more I knew this was exactly the right venue for a Disney class."
She remarked that gaining approval for the idea was not difficult. "I find that Calvin is the type of institution that rewards creativity and innovation. I have been truly surprised at the level of support and interest in the idea.
I do think that sometimes other scholars are a little skeptical of my Disney obsession, and this has been a wonderful opportunity to add some legitimacy to my Disney interests from an academic standpoint."
Students thought that McBride and her love for the Disney universe made all the difference to the trip.
"Even when we were really tired on the trip, it was hard not to feel her excitement," said Ostrem.
Sophomore Brianna Johnson was inspired by McBride's professional passion. "She proves that no matter how educated a person is, they can still choose to believe in the magic. I think that is the greatest contribution she shared with us," she said. "We were free to believe in the magic."
"Becca has inspired me to never stop dreaming," said Marek, "but also accept God's will for my future."
Junior Jamie Bower remarked at how well McBride cared for the students. "She's been our substitute mother, even though she tries to deny it, but I think we've become her ducklings on this trip as well."
Overall, students said they came away from the trip impressed and inspired.
"Truthfully, I thought the idea of taking a class to Disney was a huge joke," said Kelly, "but with all that we have learned and experienced here I cannot imagine not taking such a valuable learning experience.This class was outlook-changing and inspirational. Calvin should definitely support more classes like this and definitely offer this class again."
"To describe this class without using the word magical would be a travesty," said Taketani.
When asked if they would do it all again, students responded almost unanimously.
"Yes, in a heartbeat," said Bower.
"Without a doubt in my mind," said Taketani.
"A million times over again," said Johnson.