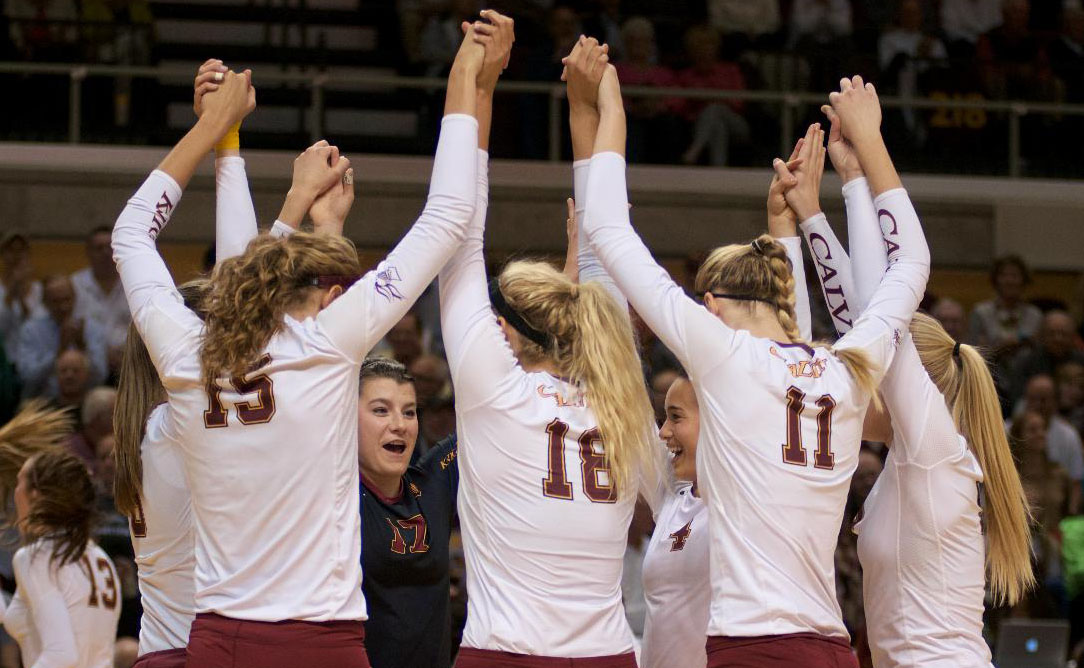 After three years of playing NCAA Regionals on their home court, the number-one ranked Knights will head to Wisconsin in defense of their national championship. In their first match, they will take on University of Wisconsin-Oshkosh, which has a record of 31-7.
UW-Oshkosh Titans have played eight more matches than the Knights, so comparing stats directly would be difficult. Luckily, most stats are also measured per set. (Players must have played in half of the matches and two sets per match played to be considered.)
Offensively, the Titans have four players — two hitters and two blockers — with over two kills per set compared to two for the Knights. For the Titans, junior outside hitter Katelyn Malcheski leads with 3.35 kills per set and a .271 hitting percentage. For the Knights, junior outside hitter Maggie Kamp leads with 4.49 kills per set and has a .301 hitting percentage. In terms of assists, first-year setter Jenna Lodewyk leads the Knights with 11.21 assists per set compared to junior setter Morgan Cizauskas for the Titans, who has 9.12 assists per set.
Defensively, it's a pretty balanced matchup, with the Knights having six players compared to the Titans' five with more than two digs per set. Senior libero Elise Biesboer leads the Knights with 4.38 digs per set. For the Titans, junior defensive specialist Mandy Trautmann leads with 5.78 digs per set.
When you put all of the pieces together, the Knights look better statistically. As a team, the Knights average 14.25 kills per set, hitting successfully 30.4 percent of the time, 13.05 assists per set and 16.28 digs per set. The Titans average 12.58 kills per set, hitting successfully 20.7% of the time with 11.59 assists per set and 17.13 digs per set.
Statistics don't win games, but the takeaway from this is that the Knights move the ball more often and more effectively than the Titans. The Titans will be prepared for an attack from the Knights, but the Knights will look to keep it away from the defensive specialist Trautmann.
If the Knights win they will move on to play the victor of the Elmhurst/Wisconsin Whitewater game November 14th at 5:30 PM.