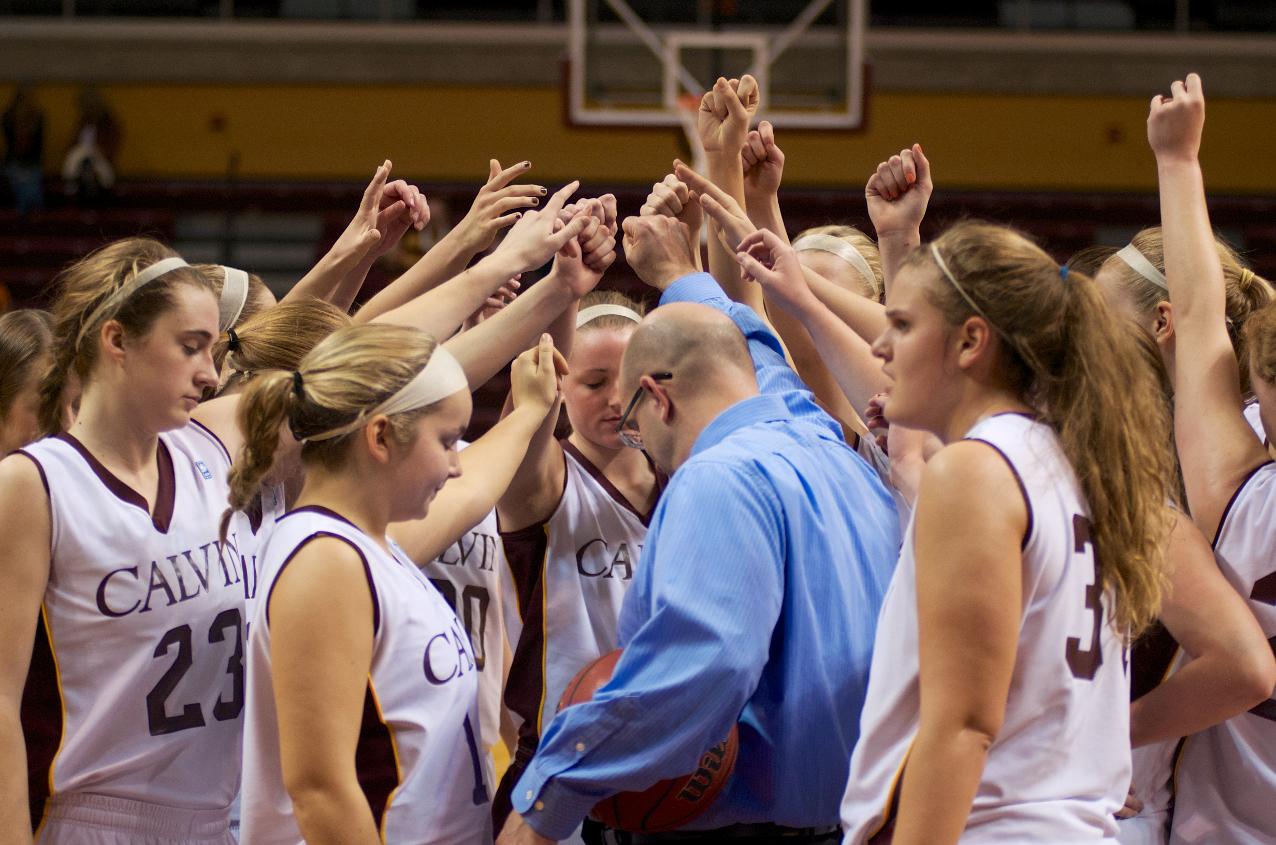 The chilly November air prompts students to dawn their maroon and gold scarves. To some, this may indicate the approaching Thanksgiving Day holiday; others, however, are reminded that Nike tennis shoes and Air Jordans will once again be squeaking on the plywood.
Basketball is right around the corner. In fact, the Calvin women's basketball team tips off play this Saturday at home against Saginaw Valley.
The Knights enter the season ranked 17th in the WDIII News Preseason Poll and second behind Hope in the MIAA Preseason Coaches Poll, receiving one first place vote.
The team has 11 returners from last year's squad, including senior forward Breanna Verkaik who was named All-Region Third Team by D3hoops.com and BCAM Academic All-State after the 2013-2014 season.
The leadership of the team's seniors is recognized by younger players on the team like first year guard Breanna Luurtsema:
"Hannah Acre, Bre Verkaik and Kayla Englehart have all done a great job as seniors guiding us freshman. We have definitely been working hard in the off-season in open gyms and conditioning. The seniors did a great job of leading the pre-season workouts and pushing us physically to prepare us for the season."
Luurtsema is part of an incoming first year class that shows promise for future development.
"This year's team chemistry is very good, we have great senior leadership and 11 returning players who are all focused on the same goals." said coach John Ross. "The freshman class is very talented, but they are still inexperienced."
The first year students are gaining experience under the tutelage of the team's veterans.
One of the greatest strengths of the team is that they quickly learned to rely on each other, creating a steady cohesion on the court. Senior Hannah Acre recognized this cohesion:
"The team has progressed really well," said Acre. We worked hard all pre-season, and it is showing now in practice. More importantly, we have progressed in our team unity from the start of the school year. We are all in as a team, and this will directly improve our performances on the court."
The Knights will look to get off to a strong start this Saturday. It's time to bring out the face paint and foam fingers and get excited for Calvin basketball once more.