The Radical Reels Tour comes to Calvin
The Radical Reels Tour from the Banff Film Festival is coming to the Covenant Fine Arts Center this Saturday at 7 p.m. The Banff Film Festival is a spring festival that showcases short films dealing with outdoor themes, such as mountain hiking, extreme sports and cliff jumping, but focus more broadly on nature in general. The Radical Reels Tour is a subset of the festival that concentrates on the extreme sports section.
"Banff will hit your heart, but Radical Reels will pump it and make you want to go outside and do all that stuff," said junior Kimmi Castro. Some of the extreme sports featured by Radical Reels include mountain biking, BASE jumping and snowboarding.
"The filming is crazy," said sophomore Julie Bylsma. "They had extreme vertigo and they were puking down the waterfall," she said. "They go to great lengths. The festival is a huge hit with students."
"I love the fact that they have films from all different types of outdoor activities," added Bylsma. This is the second year the tour has come to Calvin and interest among both students and the public is high.
"I think we had about 300 people last time, which was great for our first year," said event coordinator Michael Wildschut.
Another draw for the event is its rarity.
"We're the only date in Michigan," Wildschut said. "I've had people in Detroit connect with me and tell me that they're excited for the show."
The festival serves as a fundraiser for the geography, geology, and environmental studies department, which co-sponsors this event. The money raised goes to field camps and scholarships for students in the department. Apart from the entertainment and the fundraising, another benefit for students is the opportunity to interact with other enthusiasts.
"It's a great way to get people really stoked about outdoor recreation and meet other people who love it too," said Bylsma.
Like Bylsma, Wildschut hopes the students will grow in their appreciation of outdoor recreation.
"I hope that they will get a deeper appreciation for the variety of different things they can do outdoors," he said. "I hope they become creative in how they can express themselves through their adventures. And I hope that they can find ways that they can share that with other people."
About the Writer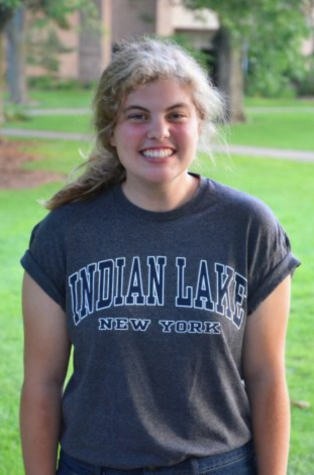 Maddie Hughey, Print Editor
Maddie Hughey is the print editor for the 2016-2017 school year after having been campus co-editor, on-call writer and staff writer in years past. She...