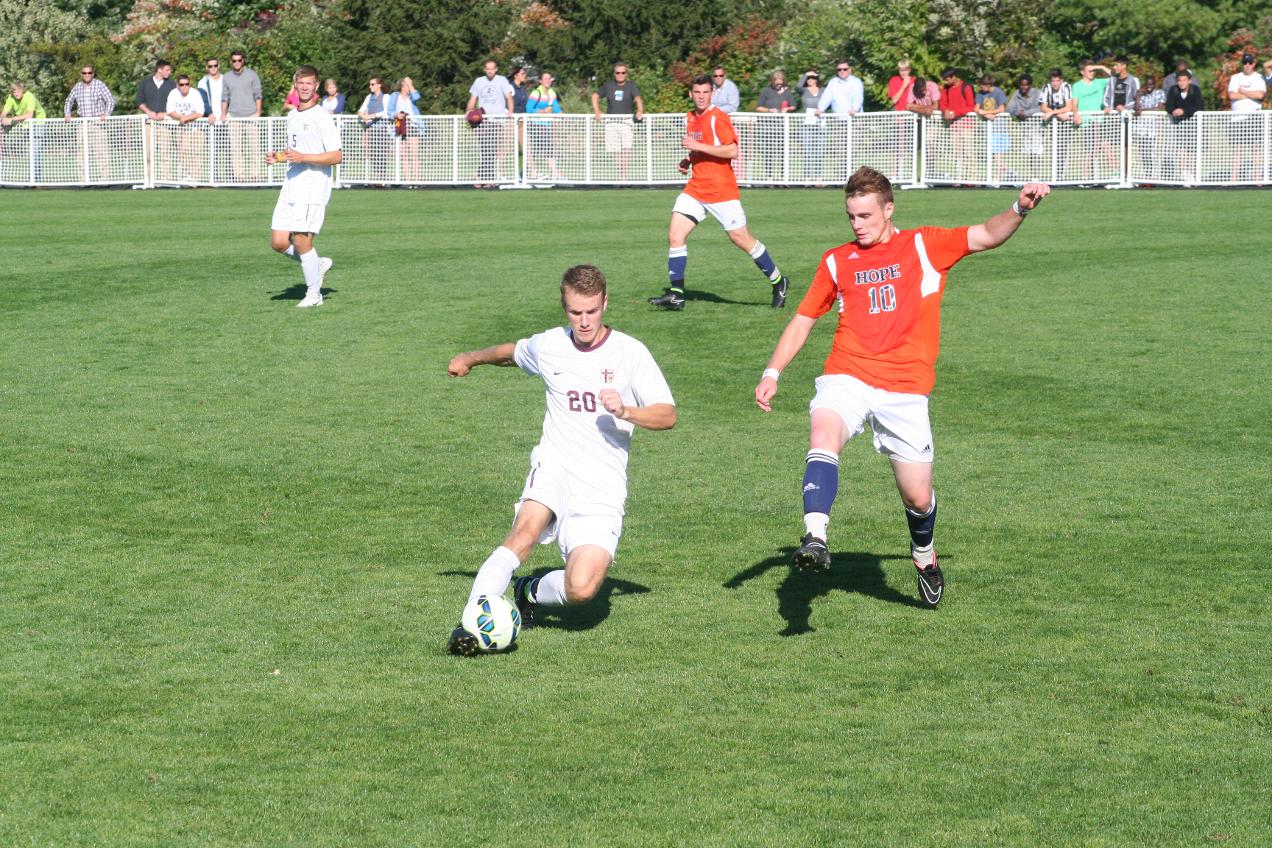 The Calvin men's soccer team walked off the field Tuesday night with a 4-1 victory against its rival, the Hope College Flying Dutchmen.
"We were confident going into the game after our 3-0 shutout against Kalamazoo College, but we still had some nerves playing a big rivalry game in front of a huge crowd. We were able to use the nerves to generate energy on the field to get the job done," explains junior Nick Groenwold.
 The Knights displayed this confidence and energy early in the matchup as senior Travis Vegter scored, putting Calvin on the board in the first three minutes of the game. Following Vegter's goal, seniors Sean Boekhuizen and Reed Bowden scored two more goals for Calvin in the first half.
 Calvin's defense shut down Hope's offense for the rest of the game's initial half, giving the Knights a 3-0 lead.
Hope scored in the twelfth minute of the second half. After the goal, the Hope players tried to push the ball out of the net quickly. As Groenwold attempted to protect the ball, a brawl broke out in the net between the Knights and the Flying Dutchmen. Following the scuffle, Calvin's goalie Niko Giantsopoulos was ejected from the field with a red card.
"I wasn't trying to start a fight. I was just trying to protect my teammate," Giantsopoulos explained afterwards.
Although Calvin played with only ten players on the field for the rest of the game, Calvin's defense managed to keep Hope from scoring for the remainder of the game. Junior Taylor Pruis was also able to score another goal for the Knights.  
"After we went down to 10 guys, it was much harder to possess the ball. We didn't play as well as we could have, but we did what we needed to do to get the job done," Groenwold explained.
Giantsopolous described his team's 4-1 victory as "a hard-fought win, because our team stuck by each other for the entire 90 minutes of the game."
The Calvin men's soccer team's record currently stands at 7-2 in the regular season and 3-0 in the MIAA conference. The team's next game is away against Adrian College this coming Saturday.