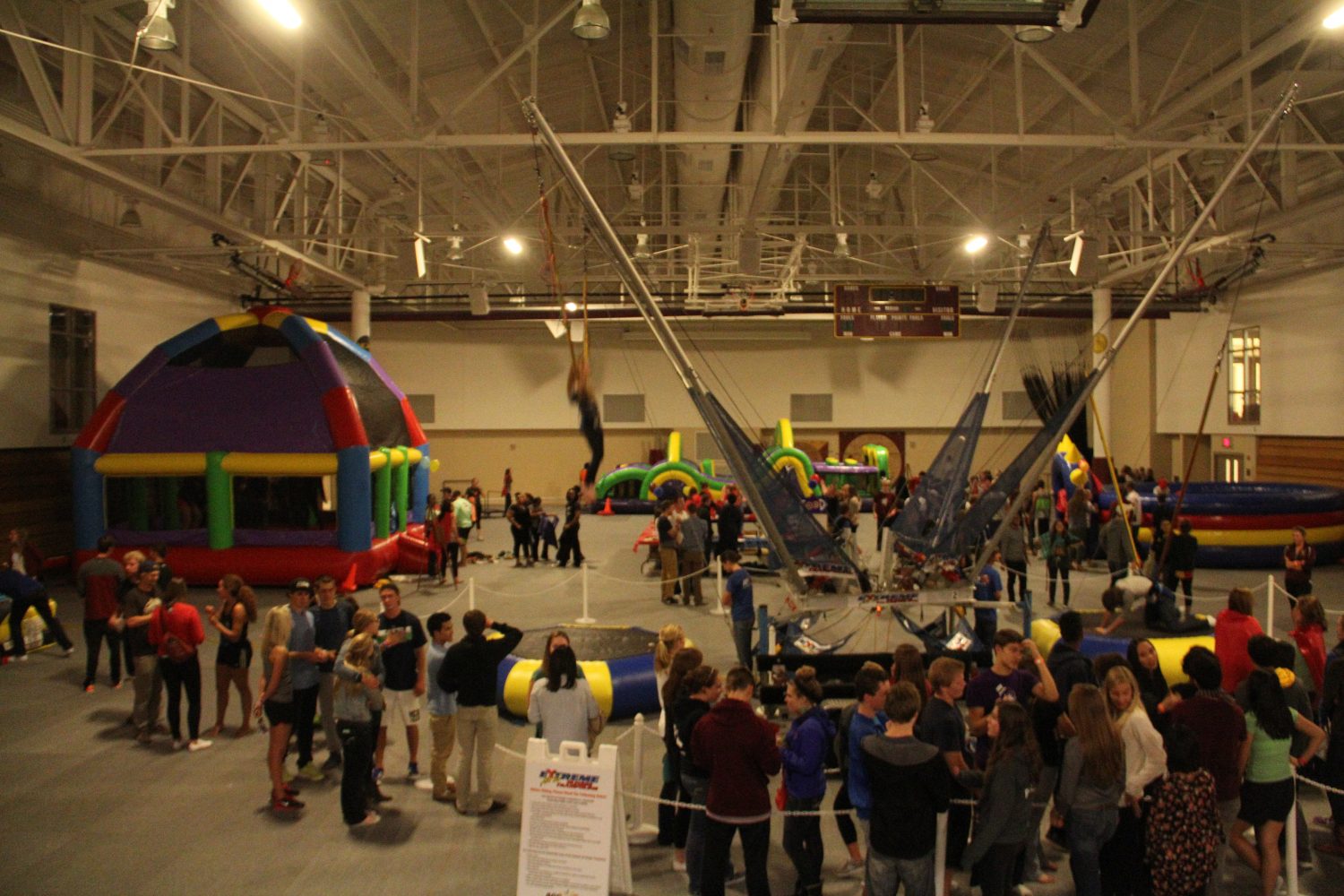 Last week, more than 1,000 students and staff came out to the Comic Book Carnival in order to enjoy inflatables, music, games and food at Buck Friday's kickoff event.
The event, which was held inside this year because of weather, was a hit with new students like first-year student Jenna Van Donselaar.
"It's more fun than I expected," said Van Donselaar. "I really like the theme because I love superhero movies."
The weekend programming team chose a comic book theme to coincide with the student activities office (SAO) showings of "The Amazing Spiderman 2" and "Captain America: The Winter Soldier."
"We wanted to make it so that we and SAO were working collaboratively," said weekend programming intern Mallory Brouwer.
The theme was well represented by activities, such as Gotham City Dash, a Soaring Wonder Woman bounce house and Thor's Wrecking Hammer, but for many, the highlight of the carnival this year was the Extreme Air trampoline. Extreme Air allowed students to "fly like Superman" as they bounced and attempted flips while strapped into a bungee system.
"It's definitely harder than it looks, but it was so much fun." said sophomore Maria McCoy.
Upperclassmen like senior Emma Camilleri also enjoyed the new attraction.
"It was crazy!" she said. "Being that high up was awesome. I used to be in a wheelchair, and I never thought I'd be able to do something like this."
Situated at the end of orientation season, the carnival attracted many first-year students as well as some returning, such as sophomore Jessie Hartzman.
"I'm seeing more activities than last year," she said. "There's definitely something for everybody."
Many students also enjoyed the return of fire spinner Kevin Higby. Higby, who also appeared at last year's carnival, has been spinning for 12 years and performed his routine of fire breathing and spinning a flaming baton for onlooking Calvin students.
Since the start of weekend programming four years ago, the carnival has been a tradition for Buck Fridays. The four programming interns–Brouwer, Destiny Nobles, Andrew Kollen and Laura Steele–have been working on the inaugural event since July.
Nobles stressed the importance of other students pitching in for the carnival.
"This event can't happen without a lot of collaboration with other people on campus," she said.
Orientation Leaders, student senate and members of many student organizations pitched in to staff the food booths and the dunk tank.
"The carnival is always a staple…everyone comes to it," said senior Brett Venhuizen.
"It's the sense of community. The people who come here just really want to have fun."
"It brings it all back to the center of campus," said Nobles. "I think it gets the entire student body really pumped about being at Calvin and gives them the time to relax after a week and a half of class." 
Nobles' fellow interns agreed with her. Steele reflected, "It shows what we can do and what other weekends are going to be like, and what it's going to be about this year: fun."