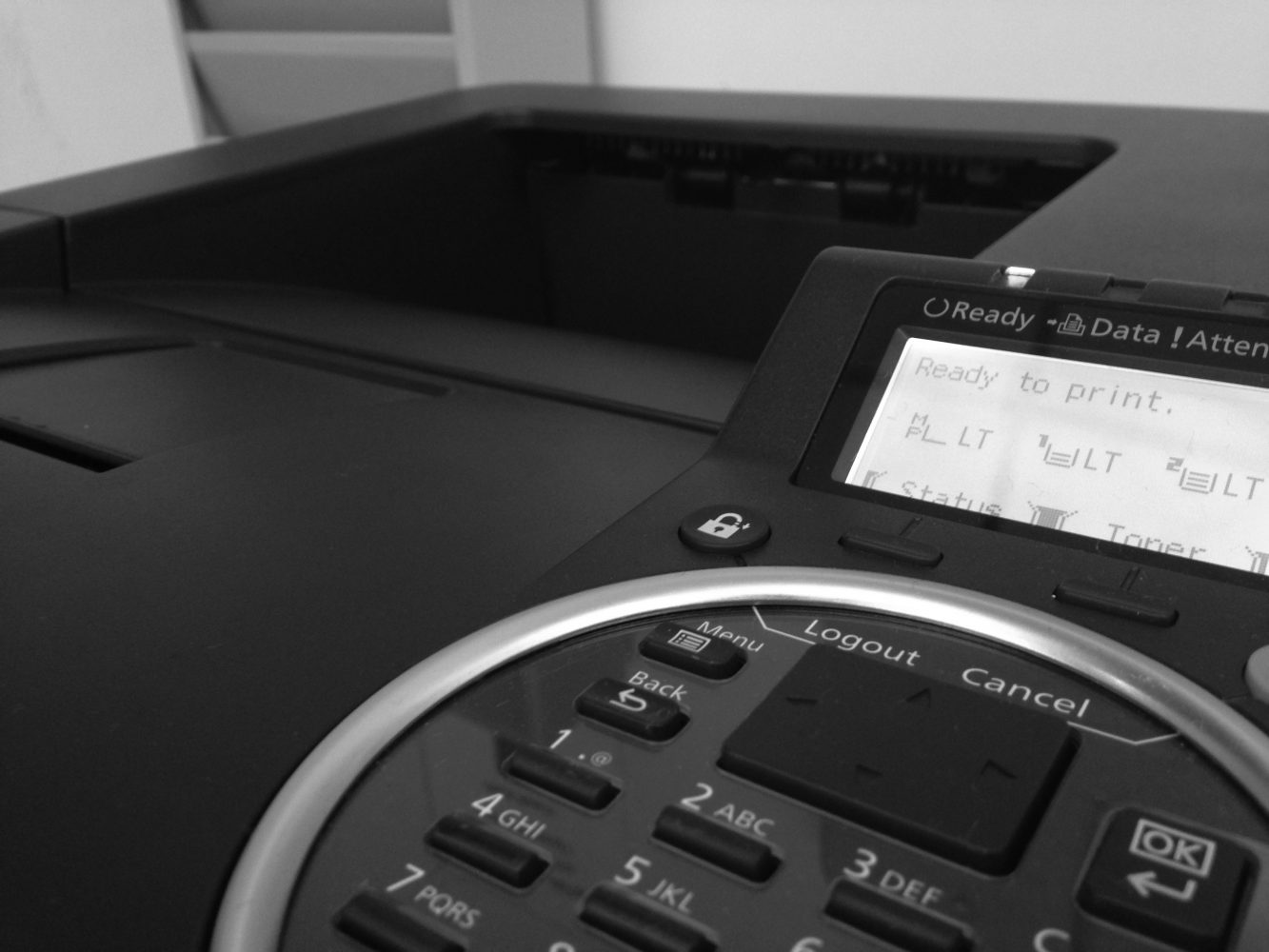 This summer Calvin's information technology department (CIT) introduced a new printing system, uniFLOW, which offers benefits and frustration for students and faculty alike.
According to Michael Mandeville, head of student technology services, the complete overhaul of Calvin's printing system was a process almost two years in the making.
"With WebPrint," he said, "the first year it was hardly used.  Then the second year it was the most used [service].  By the third year, we had outgrown WebPrint's capacity."
There were many annoyances with WebPrint, which most students encountered at one point or another. Sometimes students would submit a print job and only discover afterward that the printer was out of toner.  Some students never picked up their papers, which led to paper waste.  Or most often, if a student was queued far behind, they might send it to multiple printers, thus backlogging the system and contributing to further paper waste.
"We had outgrown the infrastructure," said Mandeville. "uniFLOW is not a one-to-one relationship.  There is less paper waste.  It's easier."
The philosophy behind the new system is called "follow me printing" or as Mandeville explained, "print to anywhere from anywhere."
"This will be the biggest mindset change," said Mandeville. "If there's a long line at one printer, you can just go upstairs to another." Students can even print from department printers without charging the department because students have to swipe their ids and the charge will go to their printing quota.
This was the other mindset change Mandeville recognized. The print budget, when it is released, will look 40-percent smaller.  This reflects the lowered cost of overall printing.  The number of print jobs allotted to students will be no fewer than in previous years.
Mandeville also explained the students will be "charged" based on sheets, not pieces of paper.  Thus, students who use double-sided printing will not see their quota decreased any faster than those who print one-sided.
Another perk of uniFLOW is that students can print from their phones, since the system is integrated into Google Cloud.  From whenever a job is sent, the system will hold it for up to 24 hours, but it must be sent to the "uniFLOW" option from the Calvin student Gmail account.  After that, students need only swipe their cards — magnetic strip facing self — and the printer will print every stored document then and there.
One of the potential drawbacks of uniFLOW affects professors, who now have to carry around their ids to print, "though professors can choose to set a pin," Mandeville explained.
Also, because the printing system is so personalized, departments will now be able to see who prints the most.
"I do think its saves paper," said junior Kayla Scholten, "but I don't think it's any easier."
Scholten went on to explain that uniFLOW has never connected with her student Gmail, no matter what she has tried, so she can only print directly to specific printers from her personal Gmail.
Junior Sara Sapsford had mixed feelings about uniFLOW, commenting:
"It's a good thing there's instructions."
Fifth-year student Lauren Cremean likes the new system overall.
"Being able to get a print job anywhere on campus is cool," she commented, "and so far I've seen few problems with it. Actually, uploading the print job seems to take longer, but I'm no longer worried that a printer will be out of paper or ink. What I'm not clear about is how we're going to be billed for printing, whether or not students have a print quota and which printers I'm allowed to use."
Mandeville urged students to visit the "Students" section of the CIT homepage for a fuller explanation of the uniFLOW system.  He added:
"If there is a question, issue, or concern, it should always be reported to the HelpDesk."
"The main issues we've been having," continued Mandeville, "is when there are issues either with Cloud Print or something else that may or may not be related to the uniFLOW system. None of it has been being reported to us consistently and has caused some frustration, on both our end and the user's end."
Despite some student frustration with the new system, Mandeville noted:
We have not yet seen a case [at CIT] of a student printing via Google Cloud Print or uniFLOW where the system has not been working."
For those seeking answers or assistance uniFLOW questions or issues, the HelpDesk can be contacted at x6-8555 or [email protected]