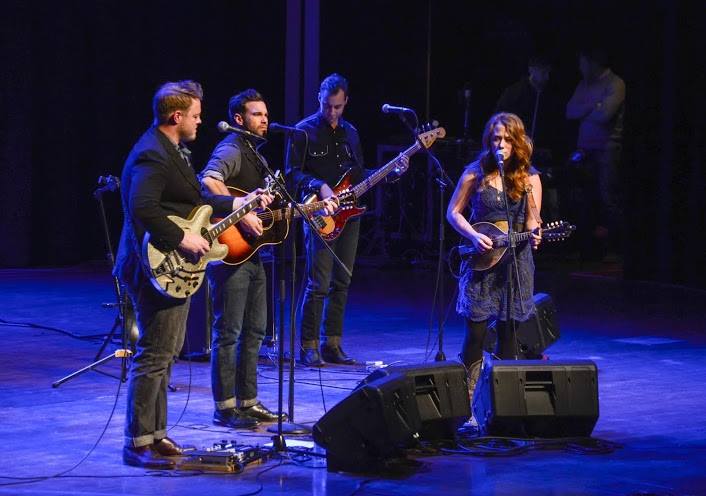 I was slightly worried about this concert. Not to say I had heard bad things about The Lone Bellow; they seemed decent from what I had listened to online, but nothing exceptional. No one knew of them. They had no opener.  And to top it all off, they were rescheduled from an original Friday night performance due to a Michigan snowstorm so large it received a nickname reminiscent of an amusement park ride. Now they were playing on an easily overlooked Tuesday before break. All the signs were pointing towards a disappointing night.
Thankfully, the signs are sometimes very wrong.
Though lacking an opener, the band warmed the audience up quickly and brought vivacity to a crowd over hung with mid-week gloom. Their foot-stomping, hand-clapping Southern sound filled the Covenant Fine Arts Center with an inviting life.
The Lone Bellow is composed mainly of three vocalists who also play mandolin, electric guitar and acoustic guitar. Each vocalist is just as good as the others and they harmonize so well together that goosebumps became a common occurrence. The band pulled in the audience with their rich tones and tight harmonies. The conviction in their voices brought renewed vigor with each song. It did not seem possible for their heart and emotion to continue for the entire concert, but it drove the band from the first chord to the encore.
The Lone Bellow has an incredible presence on the stage that welcomes their audience into the joy and pain they share so willingly with a crowd of strangers. I clapped until my hands hurt and whooped and gasped my way through their musical dramas. When the song was full of the excitement of life, the audience smiled right along with the band as they radiated their way through their performance. And when the song was mournful and required a gentle ear and spirit to hear, the audience swayed with empathy to the sorrowful harmonies.
A truly good band understands that emotions are found not only in the chord progressions, but in the rests between notes. The Lone Bellow reeled in the audience with careful but authentic emotion and then would masterfully wait in silence before resolving the chord. In these moments you could feel the audience collectively hold its breath, waiting on tiptoe for the resolution. The band had the crowd wrapped tightly around its finger.
They finished the encore with an unplugged guitar and microphone, letting their voices ring out with the audience singing and clapping along. By the end of the night the audience had become part of the performance. No one had simply watched and listened to a good band. They had participated in a work of art.