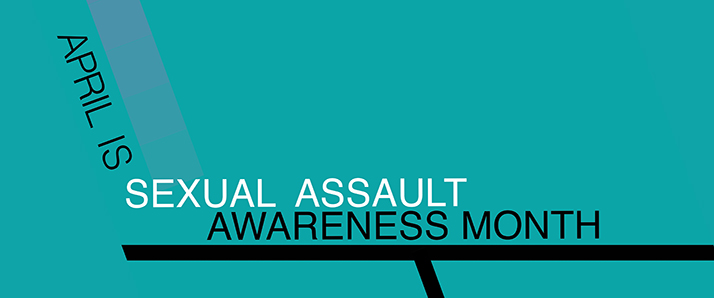 Sexual assault survivor Acacia Beelen shared her story in a chapel service lead by the Sexaul Assault Prevention Team (SAPT) on Wednesday, April 9.
"April is Sexual Assault Awareness Month," said Amanda Worst, counselor at Broene Counseling Center and faculty chair for SAPT. "We try to raise awareness for sexual assault and harassment, and chapel provides an environment that allows us to do that."
Worst said that she first heard Beelen's testimony at Madison Square Church a few months ago.
"Acacia was interested in sharing her story broadly, so we invited her [to share it at Calvin] and she graciously accepted," Worst explained.
Aminah Bradford, associate chaplain for residence life, introduced Beelen's testimony with a few words about forgiveness.
"When I think about the world's and history's greatest acts of atrocity," said Bradford, "those images of God who have enacted these moments in history are not monsters, not animals — they are human beings. Acacia is well-acquainted with both the heights of how beautiful human life can be, and also just how deep our depravity and perversion can go."
"So many of you are surprised to find yourself in your own story of grief, denial, shock, anger and disappointment," Bradford continued. "Maybe you're moving towards healing and that is possible. That's why we gather. Forgiveness is something that we talk about a lot, but sometimes it can be a little fuzzy."
While sharing her testimony, Beelen illustrated how much strength she gathered from her faith in God:
"The journey hasn't been easy, but God has never left me. I read my Bible and prayed, and God heard my prayer. Although I can't explain why these things happened to me, I knew it was for a reason. I will take all the negative things that happened to me, learn from them, grow and help others begin their journey."
Calvin encourages those who have been sexually assaulted or have questions about sexual assault to talk to the Calvin chaplain, a resident director or a resident assistant. The Broene Counseling Center also offers counseling and support, as does the YWCA Sexual Assault Program. The YWCA's crisis line is 616-776-7273. You can find out more about YWCA support groups at 616-459-4652.
Anyone interested in joining SAPT should contact Amanda Worst via email ([email protected]).