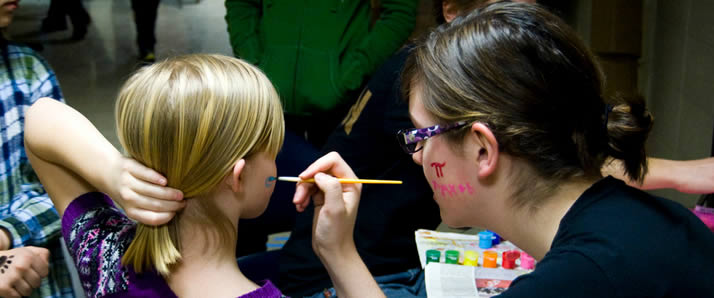 From Friday, Feb. 28 to Sunday, March 2, Calvin College hosted its 14th annual Siblings Weekend on campus. Each year, for one weekend, students invite their siblings, cousins and young school-aged friends to stay on campus with them.
Robin Zylstra, the department assistant for Student Life, says this year's Siblings Weekend was the most successful one Calvin has had yet.
"We had 278 siblings come," Zylstra said.
According to Zylstra, it helped that Siblings Weekend coincided with Fridays at Calvin. "Some of these siblings are older," Zylstra explained, "so they get to take advantage of Siblings Weekend and Fridays at Calvin — which also had the highest enrollment: 235 high school students and their families. Needless to say, the campus was humming."
The students seem to appreciate the opportunity to spend time with family in the middle of their studies.
"It's a nice way to bring the family to Calvin," commented senior Nathan Phillips.
Sophomore Deborah Ocquaye Nortey agreed. "Campus gets more lively, you know? Especially because it's winter. We get to talk to our family, but we don't get to interact with them at Calvin."
Every year for Siblings Weekend, Calvin hosts events that are designed for younger kids, although older siblings are welcome to participate. Zylstra says that they added more events for Siblings Weekend this year, and each event they had was a complete success.
"We added two events that we've never done before," Zylstra said. "We added a craft — we did tile coasters, and the nice thing about it was that it appealed both to student and sibling, and both genders. We also did Calvin's own Olympics, so we had hockey, curling and ski jumping. … For the first time ever, our movie viewings sold out before the weekend started."
Senior Devin Van Doornik, whose sister came for Siblings Weekend in years past, said she appreciated the time she got to spend with her family during the school year.
"I think it's a good opportunity for students to be with their families in their academic environment," Van Doornik said. "It's a good experience for my sisters because it's a good way for them to still have connections with their family. They get to see what it's like."
Jay Wise, assistant dean of Residence Life, said that John Witte, the dean of Residence Life, "birthed it as a way to get siblings on campus." And according to Zylstra, it seemed to work out really well.
"We have current Calvin students now who come to me and say, 'I remember coming to Calvin for Siblings Weekend,'" Zylstra said.