Men's basketball team wins in face-off against Albion College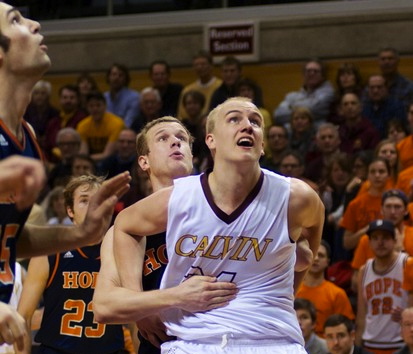 The Calvin College men's basketball team celebrated its senior day with an 83-57 win over the Britons of Albion College at home on Saturday. Calvin finishes its MIAA season at 19-5 overall and 11-2 in MIAA play. The women's volleyball national championship banner was uncovered at halftime.
The game was never really close, as the Knights jumped out to a 21-6 lead within the first 10 minutes. Junior Tyler Dykstra had a career-high 15 points, which tied with Tyler Kruis for the lead among Calvin scorers. Mickey DeVries grabbed eight rebounds and Jordan Brink and Austin Parks both had five assists.
Albion had four players in double figures, but no player scored more than 11. The Britons, who don't have a player taller than 6 feet 4 inches in their starting lineup, had a lot of trouble with Calvin's tall front line. The Knights shot over 60 percent and outrebounded Albion by 12.
This was the last regular-season home game that Calvin's three seniors (Tyler Kruis, Mickey DeVries and Jordan Mast) will play. Kruis is Calvin's leading scorer, averaging 15.6 points per game to go along with 5.5 rebounds. DeVries leads the Knights in rebounding with 6.6 per contest and is also their third-leading scorer at 9.9 points per game. Mast has been a valuable contributor off the bench, especially effective because of his three-point shooting, hitting almost 40 percent of his tries this season.
Calvin did not have much time to rest, as the MIAA tournament began on Feb. 26. The Knights are the second seed in this tournament, behind Hope.