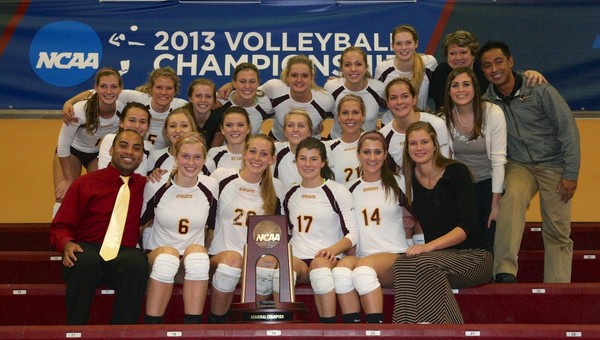 With Calvin just finishing up the celebrations from winning their second national title in four years, is it too early to look to next year and hope for more?
Maybe, but that's the standard that the team has set for their fans over the past few years, so let's take a look at what next year has in store for the Knights.
Calvin will graduate just two seniors, setter Megan Rietema and libero Kristen Zietse. However, these losses will definitely be significant, and that is an understatement. Rietema was a two-time first team All-American and was named National Player of the Year this past season, while Zietse was a three-year starter who anchored the back row.
In order to maintain last year's success and make another run at a national title, the Knights will need some players to maintain their stellar play while others will need to step in to new roles. Calvin's outside hitter Maggie Kamp was named a first-team All-American, and in her upcoming junior year she will again be in the conversation for National Player of the Year.
Emily Crowe, a middle hitter who will be a senior, is another returning All-American who will bolster the Knights' offense. Laura Danhoff, a sophomore-to-be middle hitter who was instrumental for Calvin in her first year, hopes to continue to elevate her play to All-American status as well.
Stacey Kamp and Ellie Diepersloot, two players who gave the Knights big performances time and time again despite not being the team's first options, will both return as well.
A big adjustment the Knights will have to make is having their hitters not hitting the sets of an unanimous All-American for the first time in their careers with Rietema's departure.
Sophomore Jamie Kooiman served as the backup setter this past year while also playing in the back row, and will likely step into the full-time setter role next year.
With Kooiman's move to setter, Elise Biesboer will likely inherit the libero job while Kielley Lemkuil, who saw playing time on defense down the stretch in Calvin's title run, will likely become a starter. It is certainly possible that freshmen recruits could play significant roles as well.
It is nearly a sure thing that the Calvin vs. Hope games in 2014 will be just as exciting and intense as they were this year. The Dutch lose two starters, but bring back two All-Americans, outside hitter Jenna Grasmeyer and setter Lauren Hazekamp, as well as their entire back row.
Both Calvin and Hope will again be in the running for the national title, and Kamp vs. Grasmeyer is likely a showdown between the two best outside hitters in the nation. It should again be mandatory viewing for Calvin sports fans.