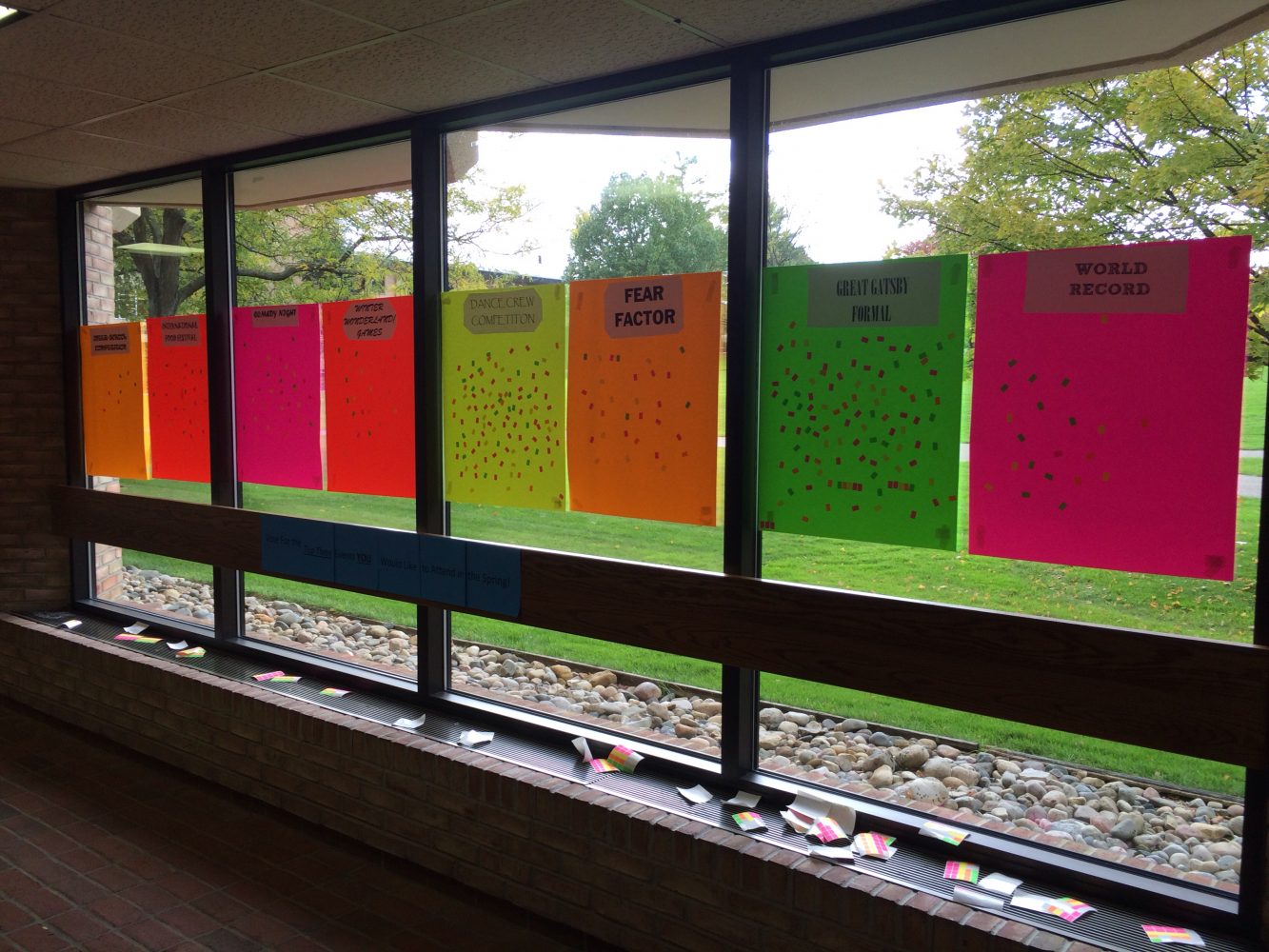 Ever wish you could be a part of the decision-making process regarding campus events and activities?  Your chance is now.
Calvin's Buck Fridays staff is hoping to receive student input from a new voting wall. Nicole Wilson, an intern on the committee, said the voting wall will be set up in the Commons Annex.
Fifteen proposed events will be put on display, Wilson said. A total of seven will be chosen.
Students will vote by placing a sticker on their favorite choices of the 15 events proposed by the Buck Fridays committee, Wilson said. New student ideas are always welcome too.
"We didn't know how to decide on what to do," Wilson said, "so why not get the public opinion?  Hopefully students will feel some ownership over the events."
Wilson said the voting wall should be up by Friday, Oct. 25 and will stay up for at least one week.
This voting wall will be different from the decision-making process that Buck Fridays has used since their founding in 2010.
The normal routine is less interactive, Wilson explained.
"Each year before the semester starts, we sit down as a team and come up with the line-up of Buck Fridays and nightlife events," Wilson said. "We start out with a brainstorming session, throwing ideas out there. Then we walk through each proposal, look at the benefits and negatives and vote."
Wilson said the team asks questions about each event — how successful it might be and whether it's something students would like.
This year, the Buck Fridays team is hoping to get a much broader range of student input about the event line-up.
"Why not get the opinions of the entire college so that everyone can have a say in what their weekend programming looks like?" Wilson said.
She also said that student responses regarding Buck Fridays events from the past four years have been positive.
"Numbers and attendance are steadily increasing each year," Wilson said. "We've seen an increase from last year and the year before, so each year it gains a little bit of momentum, which is encouraging."
Wilson said the Buck Fridays staff has seen high freshmen and sophomore attendance for events.  Hopefully, she said, this voting wall will help build momentum for upperclassmen too.
Seniors Bekah Miller and Kelsea Rounds both agree that Buck Fridays events seem to be geared toward freshmen and sophomores.
"The events are a really good opportunity for freshmen and sophomore students," Miller said. "Those who can't leave campus will have something to do on the weekends."
Senior Jeronica Andrews thinks this might be a good chance to choose events that both upper and lower classmen would enjoy.
"Over half of the student body lives off campus," Andrews said.  "A $1 event somewhere downtown would appeal to the juniors and seniors much more than on-campus events."
Wilson said the main reason for the interest in community input ultimately comes from the desire to better serve the Calvin community as a whole.
"What we want is for students to enjoy these events, be able to build community and to have experiences," Wilson said. "Some of the events are off campus, some are on campus; some are performances, some are interactive. We want to give the students a say and a little bit of agency in what their weekend programming looks like," she said.
Student senate has used a similar decision-making process in the past, Wilson said.
The Buck Fridays committee encourages all students to read through the options and give their opinion.