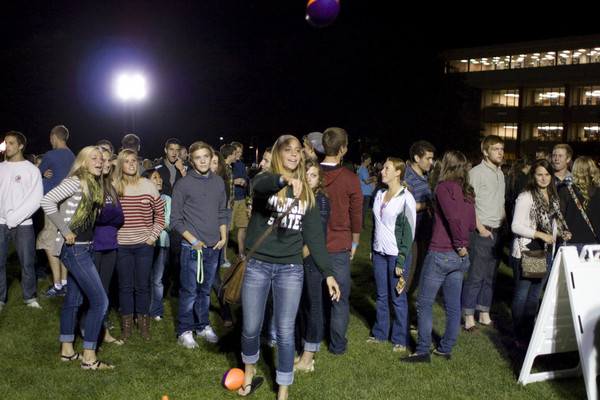 Due to a scheduling conflict between the student activities office's showing of 'Les Miserables' and Nite Life's last event of the year, the carnival attracted fewer students than Nite Life had hoped.
"We put so much effort into this event and were overshadowed by 'Les Miserables.' It's disappointing," said Daniel Joo, one of the four interns working for Nite Life.
The showing of the widely-popular "Les Miserables" was changed from Friday night to Saturday night, causing the under-attendance at the Nite Life event.
However, many of those who attended enjoyed their night.
The carnival was the last event of the year and went from 8:30 p.m. to midnight, with music provided by DJ Zhem.
The athletic center was filled with assorted bounce houses including an obstacle course, jousting, a giant slide and basketball hoops.
"The carnival was so successful in the fall, that we thought that this would be a great way to end with a bang," said Joo.
Students, such as sophomore Melinda Loubser and junior Sydney Carrick agree.
"We are having a lot of fun here tonight," said Loubser.
With the variety of activities available, students were free to pick their favorites and spend their time accordingly.
"My favorite event would be the obstacle course where you get to go against someone," said Mitchell Porch, a sophomore at Calvin this year.
"One part that I didn't like that much was the spinning because it makes me feel sick, but that's OK. It's still fun."
Carnival type food — cotton candy, popcorn, nachos and snow cones —  was also available for enjoyment, along with a photo booth with fun props and a craft area. Some of the crafts that were offered at the carnival consisted of masks and picture frames that a person could paint and decorate to their content.
"The basketball hoop is my favorite because I like playing basketball. I am enjoying myself," said Gilbert Conley, a sophomore, as he swished one more basket.
"I was really excited because I went to the carnival in the fall and it was really fun. I'm probably going to go try out the obstacle course first. That's always a fun one," said junior Abby VandenAkker.
The student senate also had a booth up with "Minute to Win It" games such as chubby bunny available to play. Other miscellaneous games were out and open to play as well.