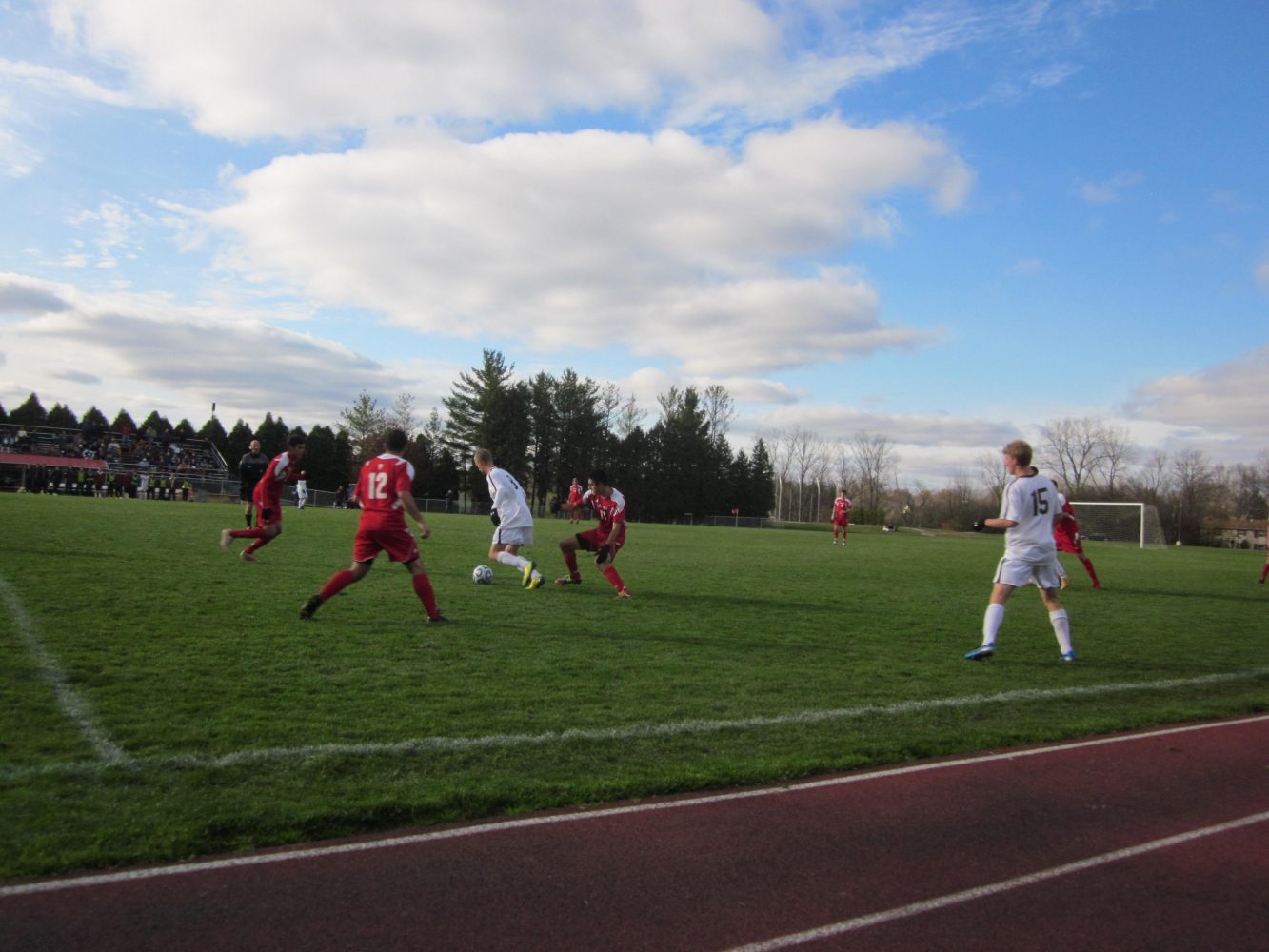 The men's soccer team hosted Kalamazoo last Thursday in the semi-final round of the MIAA tournament. The Knights took the Hornets 1-0 in double overtime. Said freshman Taylor Pruis:
"We had good previous results against Kalamazoo, but give them credit for fighting that hard. It was a tough game and we didn't play our best, but we managed to pull it out right at the end. All we had to do was get out of there with a victory, and we were able to accomplish that."
Calvin maintained possession for most of the game and had 28 shots to Kalamazoo's five. Despite the shot difference, the ball did not connect with the back of the net for either team in regulation. The game was sent to overtime and through the first overtime period, the game remained scoreless. With a minute and a half left in double overtime, sophomore Travis Vegter connected with a cross by Pruis to send a header into the goal.
"I have to give a big thanks to Taylor Pruis for laying it right up for me!" said Vegter, crediting Pruis for the goal.
The Knights' senior keeper Jared Rushlau got the win and had two saves on the game.
Senior Joe Broekhuizen reflected, "It was a tough game. We had possession most of the game and generated some good chances but unfortunately couldn't put any away. Our defense and Rushlau played extremely well and held Kalamazoo scoreless until we could finally put one in. When a team plays 10 behind the ball like that its tough to be patient and find the gaps. We never got too discouraged and eventually it paid off."
This win moved them into the MIAA finals on Saturday against Olivet, who defeated Hope in their semi-final game. Calvin defeated Olivet 3-0 in front of a home crowd.
Calvin's first goal came by way of a header by Broekhuizen off a free kick from senior Nick Holtrop. This goal was Broekhuizen's 13th of the year. The Knights went into halftime up 1-0.
"It was a tough fought battle, back and forth through the first half," said Broekhuizen. "We were fortunate to get one. Nick [Holtrop] played the perfect ball to me in that first goal."
In the second half, much of the game was played in the midfield. Pruis scored the next goal in minute 73 off a cross from junior Zach Willis. Four minutes later, Vegter connect on a pass from Broekhuizen to bring the Knights up 3-0; the final score. Rushlau had three key saves in the game.
"In the second half, we just tried to possess a little more than the first half," explained Broekhuizen. "[We] tried to hit the channels. I thought we did a good job controlling it and then our defense stepped up huge. Rushlau made a couple key saves down the end and they shut [Olivet] out. That's all we can ask of them. So overall a good game for us."
"I thought it was a great win," commented Coach Ryan Souders. "It's obviously exciting to get a conference tournament championship. I thought our seniors did a great job; they've led us all year and it's exciting to get back in the NCAA tournament."
With this win, the Knights automatically qualify for the NCAA tournament. Last year they were national runner-up in Divison III.
"We have no idea [who our match-up will be in the NCAA tournament]," said Souders. "We're excited find out Monday, it's just good to know that we're going dancing. We don't really care about who we're with at this point."
The Knights find out who they play and where they go Monday at 1 p.m.