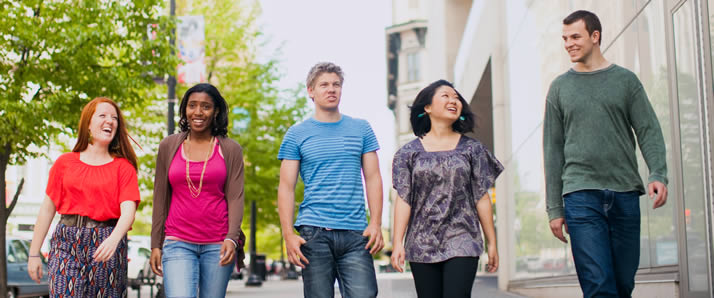 After enduring several years of smaller freshmen classes, the 2012 class has been a positive sign for Calvin officials on multiple fronts.
This year's freshmen and transfer class totals 1,085 students, the largest incoming class since 2007. The large class pushes Calvin's enrollment over 4,000 students for the first time in three years. The total of 4,008 students is up one percent from last year's numbers.
While the higher total numbers are a positive for the college, the more impressive numbers lie in the academic strength of this year's incoming class.
According to the Russ Bloem, Calvin's vice president of enrollment management, the freshmen academic credentials are notably stronger than last year's freshmen. Bloem emphasizes a 26 to 27 increase in the average ACT scores and a 3.6 to 3.7 jump in average high school grade point average.
"If you look back 10 years, we haven't seen an increase of that amount," Bloem said in a recent interview with MLive.
Bloem believes Calvin's new academic programs have contributed to both increased enrollment and attracting a stellar incoming class.
"You really have to have excellence in a wide range of programs," Bloem said. "Students are looking for different things."
The new year also brings a more diverse student body.
According to Calvin's Day 10 report, an annual look at enrollment, the current number of enrolled African-, Hispanic-, Asian- and Native-American (AHANA) and international students is at an all-time high, 49 students more than last year. The total between the AHANA and international students makes up about 22 percent of Calvin's student body.
Admission counselor Bart Tocci says the increase in diversity at Calvin has been very intentional.
"We [admissions] have a whole team for international students," said Tocci. "We also have what I think are really good awards for AHANA students."
Tocci emphasized programs like Entrada, which ends in a $4,000 scholarship, renewable for up to four years, for any student who completes the program and comes to Calvin. Another scholarship specifically available for minority students is the Mosaic award, a $4,000 award, also renewable for up to four years.
Tocci views the scholarships available as proof of Calvin's emphasis on increasing student diversity.
"It's a goal for the college, and I think it's a big goal," said Tocci. "It's kind of like putting your money where your mouth is."
And minority students are not the only undergraduates benefiting from scholarships.
Calvin's Day 10 report reveals that 2,272 students are currently receiving scholarships, over 59 percent of undergraduates. Both numbers are easily 10-year highs, continuing the five-year trend of dramatic increases in scholarships awarded. Since 2008, the percent of students receiving scholarships has risen nearly 14 percent.
Director of Admissions Counseling Ben Arendt explained that part of that increase has been targeted at academically exceptional students, aiding in the impressive academic resume in this year's class.
"Part of the increase you're noticing is coming from our Honor's Fellows Program, a new initiative we started this year to attract those high-level scholars," said Arendt.
But Arendt says that overall, the financial aid by Calvin is an attempt to provide the Calvin experience to as many students as possible.
"Calvin has a very egalitarian model of financial aid; we try to be as accessible to as many students as we possibly can," said Arendt.
"A lot schools have an econometric aiding models, where they're really targeting aid to a particular set of students. But we are very transparent, saying this is what you need for a merit-based scholarship, and you apply for those when you apply for admission."
The one concern about the numbers from this year's report is the continual decline of alumni children that enroll at Calvin, or "legacy" students. This year's enrollment includes the lowest legacy numbers in the last ten years, and continues the downward trend that that began in 2008.
But Arendt says that despite the decline, Calvin still has a comparatively excellent standard for legacy.
"If you were to do a comparative analysis of legacy percentages at Calvin versus another university in the CCCU [Council for Christian Colleges and Universities], our numbers are still incredibly high," said Arendt.
Arendt admits that the changing numbers are significant, but argues that it may not be such a bad thing.
"One of the things this means for Calvin is an ever-changing and shifting demographic," said Arendt. "That places an importance on staying connected to your alumni, but also trying to introduce the Calvin experience to new students. There's a freshness to that that I think is exciting as well.
"We can't underestimate the value in that, and the uniqueness that it offers to our community."