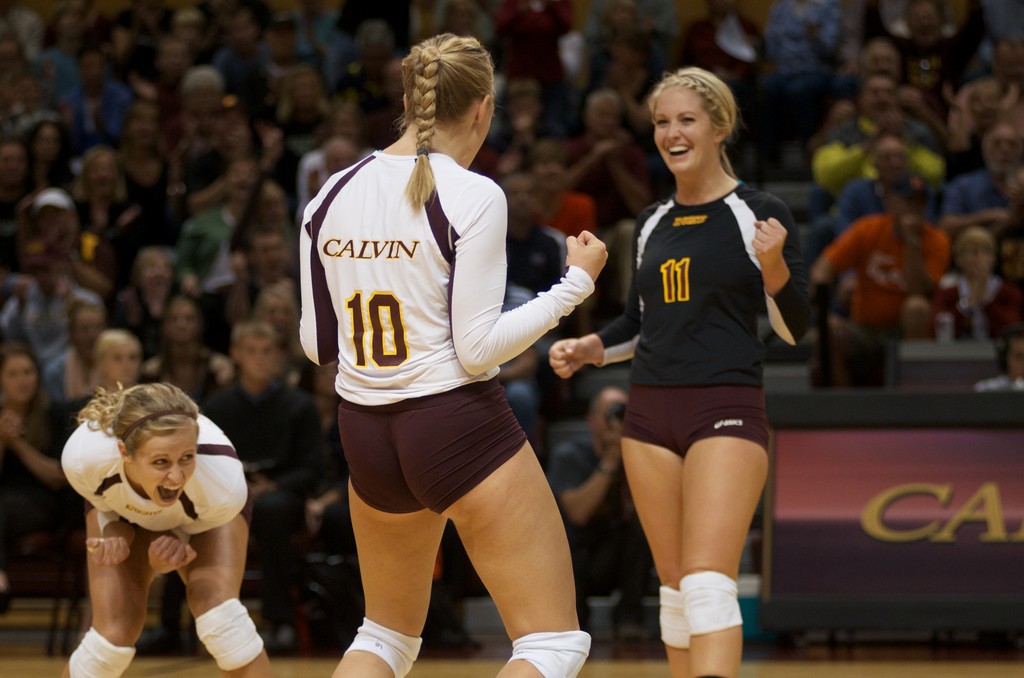 The volleyball team passed the halfway point of conference play on Tuesday, Oct. 2 with a 8-0 record in the MIAA. The Knights defeated Albion in three in Van Noord Arena to finish the first half perfect.
Calvin started with a 7-2 run in the first set on three kills from senior Lizzie Kamp. The Knights took the first set 25-11. Kamp had six kills on seven attempts in the first set. Calvin hit for .452 in the set holding Albion to .037.
In the second set, Albion held on for the first 10 points. Sophomore Brittany Rosendale stepped up to serve and widened the lead to 10-6. Calvin won the second set 25-15, with the Knights hitting .429 and the Britons .111.
The Knights got a quick 8-1 lead in the third set off the serving of junior setter Megan Rietema. A Briton took four straight points back and got within two points three different times, but they could not overcome the deficit. Calvin won the third set 25-14, winning the match and hitting .206.
Every Knight played in the match. Rietema and freshman Maggie Kamp led Calvin with seven kills each. Senior Julia Hilbrands had six blocks and senior Kelly Gordon-Hiskes and sophomore Elise Biesboer had 12 and eight digs, respectively.
Friday, the Knights hosted Adrian defeating them in three sets. In all three sets, Calvin scored 10 before Adrian got to six. The Knights won the first set 25-8 and took the second set 25-15, at one point commanding a 15-point lead. Calvin won the third set 25-16.
Lizzie and Maggie Kamp each made 11 kills; Sophomore Emily Crowe and Rosendale each had three blocks and Rietema made 34 assists and seven kills. Calvin hit .413 while Adrian hit .000 with 16 kills and 16 attack errors. Despite their victory, the Knights struggled with serving and had 10 errors.
The Knights finished last week hosting Kalamazoo on Saturday. They once again won in three sets: 25-8, 25-7 and 25-11. The Knights hit .507 and had eight team blocks.
Lizzie Kamp led the team with seven kills, followed by sophomore Stacey Kamp with six kills and Maggie Kamp with five. Rietema had 29 assists and eight digs.
Calvin now has a 17-1 record overall and is 10-0 in the MIAA.
The Knights compete again this weekend in the Midwest Invitational at Hope.