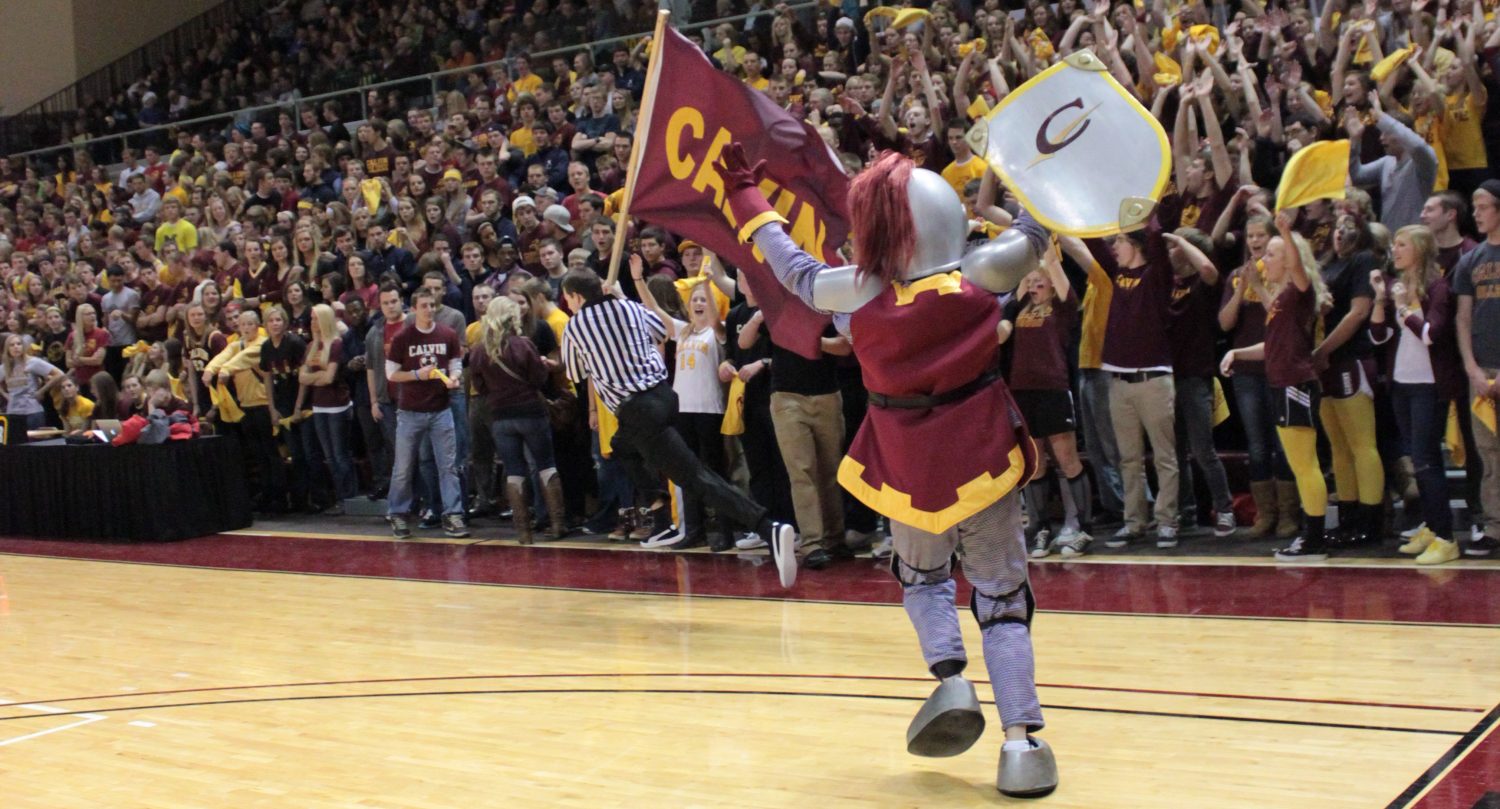 More than 2,700 fans packed Calvin's Van Noord Arena on Sept. 21 for a volleyball match-up with rival Hope College. 1,110 of these fans were Calvin students, many of whom also came early to enjoy a tailgate put on by the Calvin Game Day staff.
Game Day is a student-run program to encourage Calvin students to attend athletic events.
"It was great to see everyone attend the tailgate and the game," senior Andrew Ver Meer, the head of the marketing team, said.  "We hope to see this attendance at future Calvin sporting events."
After the tailgate, the student body, nicknamed "Knight Nation," filled up the lower bowl of the arena.
"I believe that we will win! I believe that we will win!" was the cheer of Calvin's student section just before the match began.
"This was literally the best night of my life," said Calvin junior defensive specialist Krisi Zietse shortly after the Knights' four set victory.  "The crowd was so hyped up tonight."
Calvin head coach Amber Warners was ecstatic about the crowd at the match.
"We had an incredible crowd tonight," said Warners after the match.  "I have never seen one like that at any sporting event since I've been at Calvin."
Director of men's athletics, Jim Timmer Jr., created Game Day in the fall of 2011.  Timmer created Game Day to help himself and Nancy Meyer, director of women's athletics, with their duties as athletic directors.
"Game Day's primary job last year was to meet and greet visiting teams and officials," Timmer said.  "Because of Dr. Meyer's and my duties as professors and athletics directors, we needed assistance welcoming visiting teams and officials to Calvin, and thus, Calvin Game Day was formed."
Last year, Game Day consisted of students working for an hourly rate, similar to any other job on campus.  This year, Game Day is headed by VerMeer and two other students.  All are receiving internship credit for their efforts.
One of these students, senior Drew Sikkema, noticed the lack of fans last season.
"While working in facilities management for the field house, I noticed the lack of an organized student section," Sikkema said. "I felt compelled to change that."
Sikkema, Ver Meer and fellow intern junior Bethany Zoerhof did sports marketing research during a sports management class last spring.  According to them, the biggest reason for the lack of student attendance at athletic events was lack of awareness.
"Focusing on mainly basketball, we found the biggest reason students did not attend games was they simply did not know there was a game," Sikkema said.
Game Day's goal is to create an atmosphere that is both enjoyable and exciting for the Calvin student.
"We want students to remember their experience," Zoerhof said.  "Our hope is they will tell friends about it, and more fans will come.  We would love to see increased, yet consistent attendance over course of this year and beyond."
To achieve this goal, Game Day needed to expand.  This year, Game Day staff is divided into three different groups.  The hospitality crew is in charge of getting officials and opposing teams to locker rooms and the Knight Rewards program.  This program rewards student for their attendance at Calvin athletic events.
"There is a table stationed at most every home event," Sikkema said.  "Students check in and receive coupons or are entered in drawings to win bigger prizes."
The marketing team's main goal is to let students know when athletic events are, increasing attendance and making the experience enjoyable for Calvin students.
"Our goal is not necessarily just an increase in numbers," Ver Meer said.  "It is all about getting students to spread the word, and come back.  They are our best marketers."
The final group of Game Day is in charge of handling the technology at games, as well as social media.  The newly created Calvin Game Day Facebook page has gained popularity quickly.
"I have had several people tell me the Facebook page is their main source of information on our athletic teams," Timmer said.
According to Timmer, Game Day Staff was designed for sports management majors at Calvin, but is not exclusive.
"Most of our sports management majors get hired after they graduate in ticket sales, advertising and marketing," said Timmer, who is the main advisor to sports management majors.  "Game Day staff gives these students a chance to gain real life experience in these areas."
Game Day has seen its work pay dividends.  The volleyball match with Hope and soccer double-header saw a huge increase in fans.  Roughly 500 students showed up for the pregame tailgate and the two soccer games against Albion on Sept. 22.
"Knight Nation has been awesome so far this season," head men's soccer coach Ryan Souders said.  "They have definitely played a part in making Zuidema Field a tough atmosphere for opposing teams."
Calvin Game Day has made an immediate impact on attendance, but the goal is for Game Day to have a long-standing impact.
"We are in the process of building a really solid student fan base for Calvin athletics," Sikkema said.  "For this to continue year to year, things need to be tweaked and reevaluated to create a desirable experience.  That experience for a fan should be something to be proud of."