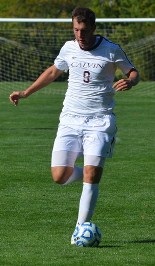 The men's soccer team traveled to Van Andel Stadium on Hope's campus last Wednesday to face off in its first rivalry game of the year. Once again, the Knights prevailed and came home with a 1-0 victory.
Calvin sophomore Travis Vegter scored the only goal of the game in the sixth minute. Breaking through Hope's back line, he faced the Dutchmen's keeper one-on-one. He dribbled toward the corner of the six yard box and snuck a shot under the keeper's arm and inside the near post.
The Knights maintained possession of the ball for the first ten minutes but Hope had a couple of great shots late in the half that both curved wide of the frame.
The game quickened in the second half with each team adding up shots, but Hope was unable to put any shots on net. With twenty minutes left, Hope had tied up the game off after a long throw-in from 40 yards out found the goal on a deflection. The goal was waved off and a Dutchman forward was called for pushing the Knights' keeper senior Jared Rushlau.
After their victory against Hope, the Knights traveled to Kalamazoo on Saturday, Sept. 29 to play the Hornets. The game remained scoreless for the first 40 minutes, until senior Joe Broekhuizen scored two goals in two minutes bringing the Knights up 2-0 going into the second half.
Kalamazoo ripped a shot that was defended by the crossbar, losing its only chance to score. Twenty minutes into the second half, junior Zach Willis found the net. At the 83rd minute senior Mike Sanderson and freshman Sam Hanover each scored their first goals of the season. The Knights won 5-0.
The Knights outshot the Hornets 17-13. Rushlau was credited with the shutout.
For his two shutouts last week, Rushlau was named MIAA defensive player of the week. This is his first time receiving this award in his career.
The Knights are on a four conference game winning streak and host Alma on Saturday, Oct. 6 hoping to continue that streak.